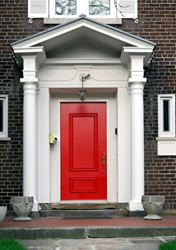 If the garage door has stains or rust, homeowners should replace it to better appeal to buyers.
Chicago, IL (PRWEB) May 30, 2015
While home sellers often prepare for showings by tidying up the inside of their house, making sure the outside is presentable is just as important. The Federal Savings Bank thinks curb appeal may be the most crucial way to make a good first impression. In addition to trimming the grass and clearing the driveway, homeowners should consider how their doors attract house hunters.
Here are four tips to improve the look of entryways:
1. Paint the front door a bold color
Although there are likely plenty of doors painted neutral colors like white or black, a colorful door makes more of a statement. Home sellers can paint their doors vivid hues like red and dark green to complement the existing colors of the rest of their home.
2. Install a steel entry door
The functionality of a home's design features helps house hunters make their home buying decisions. Investing in a steel entry door could boost home value. In 2015, it cost $1,230 to install a steel door, generating $1,446 in value.
3. Get a new garage door
When one thing about a house is dingy or damaged, including the garage door, home buyers may hesitate to put down an offer. If the garage door has stains or rust, homeowners should replace it to better appeal to buyers, Realtor.com recommended.
4. Place decorations in front of entryway
During busy home buying seasons when there are several homes for sale in the same neighborhood, it's hard to get the attention of every buyer. However, home sellers could use decorations to their advantage. During the spring and summer buying season, home owners could put potted flowers in front of the door. For the fall and winter, they could set up holiday-themed decor, like pumpkins or tinsel, to keep up with the season.
Contact The Federal Savings Bank, a veteran owned bank, to learn more about mortgages.