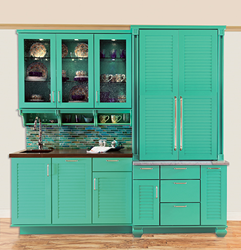 "Be Yourself, Creative, Be Creative, Be Inspired"
Ashland, Alabama (PRWEB) June 02, 2015
With summer on the way, find inspiration, be creative and check out Wellborn Cabinet, Inc's custom color program, ColorInspire. This program allows the designer and consumer to choose a cabinet color from the extensive paint decks of Sherwin Williams, Valspar or Benjamin Moore. The color options are next to endless allowing for cabinetry to pose its own character.
There are many rooms in the home where ColorInspire can be used to display personality, creativity and inspiration. Craft rooms are a wonderful place to incorporate color to make the room feel more inspiring. Using color in closets shows individual personality. ColorInspire can even be used in rooms that gets more visibility such as the kitchen. For a bold statement, put ColorInspire to use on all kitchen cabinets. For a pop of color, use it on the island. Bathroom vanities are another beautiful way to exhibit character in the home.
ColorInspire is available in our Estate Collection and Elegant Bath Inset Door Cabinetry.
For more information and photos of ColorInspire, go to http://www.wellborn.com.