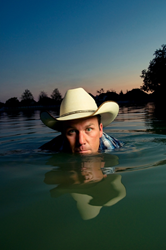 CHARENTON, La. (PRWEB) June 01, 2015
Known for crass, country humor, Rodney Carrington is sure to entertain you for your 4th of July celebration in the Pavilion at Cypress Bayou Casino Hotel.
Carrington is a multi-talented comedian, actor, singer and writer. His fame started with his debut comedy CD "Hangin' With Rodney" in 1988, which was followed by seven more Top 10 albums. Recently, he released an album of all new songs and material entitled "Laughter's Good," which debuted at Number One on the Overall Comedy Charts. Carrington is also famous for starring in his own sitcom on ABC called "Rodney."
"Rodney Carrington has been so successful because he relates and connects to his audience. His humor is crude in a comedic way, and I am sure our guests will enjoy celebrating the 4th of July with him," said Nancy Herrington, Director of Marketing at Cypress Bayou Casino.
Carrington has also seen success as an author with his book, "Rodney Carrington, Coming Clean." He has hosted the American Country New Year's Eve Live on FOX and won "Supporting Character of the Year" from the CMT Music Video Awards for his appearance on the Trace Adkins' music video "I Got My Game On." Carrington is also responsible for creating the Rodney Carrington Foundation that benefits charities that need a helping hand.
Showtime on July 4 is at 8p.m. and doors open at 7p.m. Tickets start at $55 and can be purchased at Bizzute's Gifts at Cypress Bayou Casino Hotel or at ticketmaster.com.
About Cypress Bayou Casino Hotel
Play, stay and dine at South Louisiana's premier entertainment destination, Cypress Bayou Casino Hotel. Boasting 1,100 of the hottest, newest and most in-demand slot games available with denominations ranging from 1¢ to $100, including in-house and wide-area progressives, the Cypress Bayou Casino Hotel slot floor is a thrilling sight to behold. Try your hand on more than 30 tables including Blackjack, Mini-Baccarat, Mississippi Stud, and 3-Card Poker, just to name few.
Enjoy dining in one of the five unique venues. Enjoy oysters on the half-shell or at Bocat's Oyster Bar, or indulge in sushi and sashimi at the new Tsunami restaurant opening in Spring 2015. After filling up on the fine food of your choice, dance the night away in the high-energy nightclub, Rox, all located within Cypress Bayou Casino Hotel. Stay in our new state-of-the-art, 102-room hotel, offering guests deluxe accommodations.
Cypress Bayou Casino Hotel is located in Charenton, Louisiana off of US Highway 90 at the Baldwin exit. Phone 1-800-284-4386 for more information, visit the website at http://www.cypressbayou.com, or "like" us on Facebook @CypressBayouCasinoHotel.