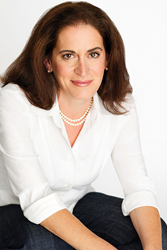 The 15th annual NEW Leadership Summit in Dallas is themed "unlock your power."
CHICAGO, ILLINOIS (PRWEB) June 01, 2015
Barnard College President Debora Spar, Denice Torres, president of McNeil Consumer Healthcare at Johnson & Johnson, and Home Box Office executive Carla Moore will anchor three days of learning and networking at the NEW Leadership Summit 2015, Sept. 30-Oct. 2, 2015 at the Dallas Omni Hotel.
More than 1,000 executives and emerging leaders from the retail and consumer goods industry are expected to attend the NEW Summit 2015, themed "Unlock Your Power." This year's NEW Summit offers 10 breakout learning sessions, an executive roundtable, a men's workshop and a NEW Leadership Academy supersession. NEW members will network at the annual Summit Luncheon; an Affinity Mixer that will connect peers in a similar career and life stage; and the Network's annual Celebrating Excellence Awards Gala honoring the industry leaders.
Opening keynote speaker Debora Spar, the seventh president of Barnard College and author of Wonder Women: Sex, Power and The Quest for Perfection, is a vocal proponent of women's education and leadership. She is active in the Athena Center for Leadership Studies, an interdisciplinary center devoted to the theory and practice of women's leadership, and Barnard's Global Symposium series, an annual gathering of high-profile and accomplished female leaders. She is author of Ruling the Waves: Cycles of Invention, Chaos, and Wealth from the Compass to the Internet and The Baby Business: How Money, Science, and Politics Drive the Commerce of Conception.
Featured speaker Denice Torres has worked to increase mentoring and reduce hierarchy at Johnson & Johnson. Her efforts include The Mentoring Edge, a virtual talk show for women across the organization, created in part to demystify leadership so that women can see themselves as a senior executive. "The sooner in their career women can relate to other leaders, the more quickly they feel comfortable bringing their true self to work," Torres said. "When that happens, we all win." She is the Healthcare Businesswomen's Association 2015 Woman of the Year and was honored as the 2013 Working Mother of the Year.
Closing keynote speaker Carla Moore is author of the new book CRASH! Leading through the Wreckage, which captures Moore's epiphany about the role of personal transformation in improving leadership. At HBO, Moore is charged with redefining and driving innovative strategies to support the growing need for a more digitally adept, multicultural, multigenerational workforce.
Deep dive into careers
For the first time, the Network is offering a pre-conference Career Accelerator Workshop. Built on the NEW Career Accelerator Model™ produced in partnership with the Center for Creative Leadership, the workshop will focus on the leadership competencies — and career derailers — that determine professional success in the retail and consumer goods industry.
The three-hour workshop will combine personalized assessment and sharing in a safe and professional setting and will feature a panel of senior executives offering career strategies. Participants will receive a personal 360 assessment and leave with new tools to increase their visibility, avoid pitfalls in the pipeline and identify new opportunities for growth. Pre-registration and an additional fee of $650 applies.
Now in its 15th year, the NEW Leadership Summit is open to all Network members. Members who register by Aug. 12 will save $300 off the $1,495 all-inclusive fee. Registration closes Sept. 9.
About the Network
The Network of Executive Women is the largest women's leadership organization serving the retail and consumer goods and services industry, representing 9,000 members, 750 companies, 100 corporate partners and 20 regions in the United States and Canada. For more information about its learning programs, events, research and the Network's "It's Time"Movement for women's leadership and workplace change, visit newonline.org.
MEDIA ADVISORY: Please contact Rob Wray at 323 702-4709 rwray(at)newonline(dot)org for information about press credentials.