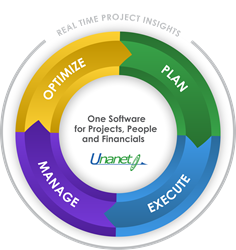 Dulles, VA (PRWEB) May 30, 2015
Unanet, a developer of software that helps project-driven organizations manage projects, people and financials in one integrated system, held its 2015 annual customer meeting, known as the Unanet Champions Conference, on May 27-29, 2015, at the Coronado Island Marriott Resort and Spa, near San Diego, California. This is the eighth year the event has been held, and this year, again, attendance records were broken.
The conference was centered on three program tracks: Finance and Accounting, Project and Resource Management, and Leadership. For the first time at the Unanet Champions Conference, full-day training workshops were offered immediately before the main conference program on the topics 'Build a Strong Foundation on Unanet Basics', 'From Project Proposal to Award then Execution to Completion', and 'Take a Deep Dive into Unanet Financials'.
Customers earned Continuing Professional Education credits for product training classes, learned about Unanet's new integrated financials offering, attended sessions on implementation best practices, success stories and product direction, and met one-on-one with Unanet experts in Success Clinics.
Keynote speakers included Mary Jo Greil, of Carson Greil Group on the topic of "Innovation through Engagement", and Alan Chvotkin of the Professional Services Council who presented on "Market View and Insights".
Sponsors for the 2015 Unanet Customer Meetings included BDO and Cordia Partners at the Platinum Level; Digicon, DragonEye Consulting, McGladrey and Strategic Consulting Solutions at the Silver Level; and Payroll Network as the Lunch Sponsor.
Cordia Partners and DragonEye Consulting were announced at the conference as 2015 Unanet Partner of the Year award winners.
Donna Kilbourn, Senior Vice President of Customer Account Management and Partners for Unanet commented "Our annual Champions Conference provides a wonderful forum to connect with our customers and share best practices to help them manage projects, people and financials for improved profitability. Our growing partner ecosystem also has a great opportunity to share how they add value to Unanet's software and services offerings."
Planning for the 2016 Unanet Customer Meeting is already under way and will be held In Tysons Corner, VA on April 20-22, 2016.
About Unanet:
Unanet is a leading provider of Cloud or On-Premise software for project-based organizations. Unanet delivers skills management, resource planning, budgeting & forecasting, time & expense reporting, billing & revenue recognition, financials with cost pool calculations, and project management reporting. Over 1,000 organizations rely on Unanet to maximize staff utilization, reduce administrative costs by 90%, improve invoicing by 10X, and support forward decision-making for improved operations.