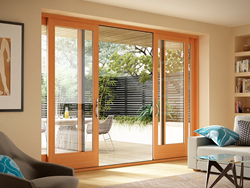 Tacoma, Washington (PRWEB) June 11, 2015
Milgard Windows & Doors launches today its newest innovation, the Essence Series® French Sliding Door --- part of the Essence Series product line of solid wood interior and fiberglass exterior windows and patio doors.
The French-style door combines the durability of fiberglass and the warmth of natural, solid wood in a beautiful new design. Consumers can customize with 16 rich exterior colors and choose between Pine or Vertical Grain Douglas Fir wood on the interior. The door is designed to glide smoothly and comes with a premium, top-hung extruded screen to minimize jams or derailment.
"We wanted exceptional operating performance," said Gordon Liebel, engineering manager for new product development at Milgard Windows & Doors. "We wanted a sliding door, for example, to be very easy to open, maybe one or two fingers to open it and close it."
Milgard extends a Full Lifetime Warranty with Glass Breakage Coverage on the new door, parts and labor included. "All of the hardware, the operation, the weather strips, those kinds of things that we choose are designed to last," said Liebel.
Consumers have the option of adding SmartTouch® Bolt, an advanced secondary lock with steel reinforcement that allows the door to vent in a secure position.
"A product like this just doesn't get designed in a week," said Paul Lindermann, plant manager at the Milgard Tacoma location. "It takes years of hard work and then months and months of getting it through the production lines. And to make it clearly the best, each employee has to feel like that door can go into their house."
The new Essence Series French Sliding Door is available to order through participating Milgard dealers. More product details can be found at http://www.milgard.com/brochure/EssenceSlidingDoor
An out-swing and in-swing style will be available in the coming months.