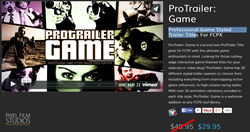 'We intend to satisfy the needs of fans of FCPX around the world and get them what they need,' said Christina Austin - CEO of Pixel Film Studios.
Aliso Viejo, CA (PRWEB) May 31, 2015
ProTrailer Game is a brand new ProTrailer Title pack with the ultimate game enthusiasts in mind. ProTrailer Game has 30 different styled trailer openers to choose from, including everything from chart-topping action game influences, to high-octane racing styles. With over 20 animation variations included in each title style, ProTrailer Game is a welcome addition to any FCPX tool library.
ProTrailer Game comes with 30 beautifully styled game-influenced titles for FCPX. From the latest military-inspired First-Person shooter styles to the new chart-topping role-playing game, ProTrailer Game includes everything for any type of media style.
ProTrailer Game includes key-frameless animations for professional and easy title arrangements. Final Cut Pro X users can simply select the desired animation and adjust the speed using the built-in guide controls. With over 20 animations including booms to random character flip-ins, each title has its own unique personality to suit any style of project.
ProTrailer Game is an all new pack of fully-customizable FCPX Generators. With speed guides to help FCPX users control the duration of the selected animations, setting up trailer openers has never been easier.
Pricing and Availability:
The Pixel Film Studios Plugins are available today through the Pixel Film Studios website starting at $29.95 USD. For more information, please visit the Pixel Film Studios website.
Established in 2006, Aliso Viejo, California-based Pixel Film Studios is an innovative developer of visual effects tools for the post-production and broadcast community. Their products are integrated with popular non-linear editing and compositing products from Apple FCPX. Apple, the Apple logo, Mac OS X, and Macintosh are registered trademarks of Apple Inc. in the U.S. and/or other countries. All other trademarks and trade names are the property of their respective owners.