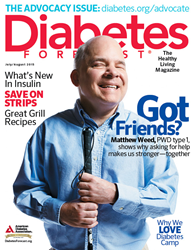 Timing and management is an enormous piece of having a healthy life when living with type one diabetes.
Miami, FL (PRWEB) June 29, 2015
As the July/August cover issue of Diabetes Forecast shows, the magazine features Dr. Matthew Weed who lost all of his sight by age 9, yet has managed to navigate through the world with the help of friends and volunteers. Dr. Weed's blindness is the result of congenital cataracts which he was diagnosed with when he was young. He also has type one diabetes and must have assistance with injections and blood glucose tests daily.
Choosing to have tight control of his diabetes allows Dr. Weed to have the best possible chance at a full and impactful life. The need to monitor his disease motivated him to develop the discipline and team building skills that have helped him become the first totally blind, diabetic person to graduate from Yale, Princeton and Harvard universities, travel the world and even complete a rollerblading marathon.
Dr. Weed meets challenges head on
Since the age of 4, he has not let disability get in his way. He began skiing as a child and he can ski downhill with the help of one or more sighted guides, a simple tracing in his hand mapping the ski route and verbal commands on the way, get him to the bottom of many slopes safely. He kayaks, roller blades, camps and participates in sports that most would think impossible considering his blindness.
His highly successful academic career includes advanced degrees many people with sight have never achieved. Weed has a doctorate in genetics from Yale University, a master's in genetics from Harvard University, and a master's in public affairs from Princeton University. He is now president of Impactors, Incorporated and a motivational speaker.
Dr. Weed draws all types of people together as he continues to consult for non-profit organizations and as the ambassador for StepOut® Connecticut on October 3 in New Haven. He's also a motivational speaker and is working on a book about his experiences with more than a hundred of the people who have chosen to join him on his incredible journey.
Vision
His determination to help others using the lessons his life has taught him has helped Matthew co-create a then-novel method for making all kinds of printed material accessible to millions with reading challenges; work with policy makers in the United States and Western Europe; help launch a multi-million dollar research center at the University of Wisconsin-Madison; create training programs that have helped hundreds of patients while teaching thousands of health professional students about how people manage chronic health conditions at home and work; and mentor hundreds of current and future professionals in fields ranging from health and transportation policy to entertainment and athletics.
For Dr. Weed, his blindness has not blocked his vision. A vision so large that it includes volunteers and teams and tools for people with chronic health needs. In November, Weed will give an aural presentation of data in Chicago at the meeting of the American Public Health Association showing that American health professions students not sufficiently exposed to how the 145 million people with chronic health needs manage their illnesses in the home and work environments. This lack of preparation exacerbates a problem America faces, in giving long term care to millions who need it—and supporting the millions more caregivers to the chronically ill and disabled. This is a challenge that is on scale to cost $100 trillion in paid and volunteer care by 2050.
In the near future, Dr. Weed anticipates the publication of his article entitled: Proof of Health Professionals' Poor Exposure To Healthcare at Home and Work and Ways to Address the $100 Trillion Problem, Exacerbated for People Managing Real World Chronic Health Needs Due to Aging and Other Factors From Now to 2050. This article will propose some cost-saving solutions to health professionals' lack of exposure to how patients live and work every day.
Over the years, Dr. Weed has developed a system that tasks his helpers with the most basic parts of diabetes management: helping him use a blood glucose meter, because even with meters with audio capabilities, there are important details manufacturers may have overlooked. This applies to all sorts of medications and insulin pens that could easily be mistaken for different types of medicine because they are similar shapes and sizes.
"Although it may sound risky, having volunteers help with medications, in nearly 15,000 times someone has administered my meds, the worst thing that happens is someone forgets to show up," says Weed. "Timing and management is an enormous piece of having a healthy life when living with type one diabetes."
According to friend and former teacher, Dr. Jack Barber, "He wove his way into our lives, creating joie de vivre wherever he went. The defining day was marked by his announcing that he was going to attend an Ivy League School and needed to know various concepts to accomplish this goal. This Matt Weed, sliding pell-mell on the wings of adolescence into my life, buoyed me to greater heights and made my life rich.
Dr. Weed continues to inform, enrich and encourage people across the globe with his determination and accomplishments.
About Diabetes Forecast
The Healthy Living Magazine, Diabetes Forecast is published bimonthly in print and digital editions by the American Diabetes Association. All articles are reviewed by a dedicated group of health care professionals with clinical and/or research experience.
About Blue Chip Talent
The team at Blue Chip Talent focuses on Pro Sports Publications, Print Media Advertising, Athlete Endorsements, Personality Representation, & Out of the Box Sports Marketing Promotions.
Dr. Matthew Weed is available for interviews.
Contact: Marvin Lebovitz or Rubin Hanan 305 937 6277; Email MarvL(at)BlueChipTalent(dot)com
be sure to connect on Twitter @MarvLBlueChip and @Elevation808 for latest updates!