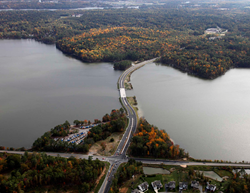 Chesterfield County, VA (PRWEB) June 01, 2015
On Monday, June 1st, Chesterfield County honored fallen soldier, Kyle Stoeckli by naming Woolridge Road Bridge over the Swift Creek Reservoir the "Specialist Kyle Pascal Stoeckli Memorial Bridge." Specialist Stoeckli, a Chesterfield resident, was killed in action in Afghanistan at the age of 21 on June 1, 2013. The bridge closed from 9am to 4pm to memorialize the second anniversary of his passing and honor him for his service to our nation.
The Virginia Department of Transportation requested Timmons Group, a local engineering and technology firm, create a sign identifying the bridge as the "Specialist Pascal Stoeckli Memorial Bridge" and developed a maintenance of traffic plan for the ceremony. Family, friends, neighbors, and Chesterfield County officials gathered to dedicate the bridge, unveil the sign and present it to the family.
Kyle Stoeckli attended Woolridge Elementary and graduated from Cosby High School. He participated in the Woodlake Swim and Racquet Club, Club Lacrosse and Cosby High School Football. He was laid to rest in Arlington National Cemetery among heroic soldiers who gave their lives in Afghanistan during Operation Enduring Freedom.
Timmons Group provided the original roadway design, maintenance of traffic (MOT) plan, landscape and lighting design, and teamed with STV Group for the bridge design for crossing the Swift Creek Reservoir. The project was complete in 2011.
About Timmons Group
Timmons Group is a multi-disciplined engineering and technology firm recognized for over twenty-five years as one of Engineering News Record's (ENR) Top 500 Design Firms in the country. The firm provides economic development, civil engineering, environmental, GIS/geospatial technology, landscape architecture and surveying services to a diverse client base. Headquartered in Richmond, Virginia, Timmons Group has regional offices across the United States. For more information, visit http://www.timmons.com.