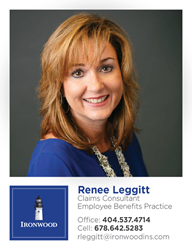 "Having Renee as a resource allows employees to speak to a person, the same person each time, who understands the individual's situation and who can assist each employee with navigating the complex maze of medical claims payments." Mark Conner
Atlanta, GA (PRWEB) June 02, 2015
Furthering its commitment to offer nationally competitive resources with a strong local service team, Ironwood Insurance Services announced it has added a full time claims consultant to its Benefits Advisory Services. Ironwood has been offering claims advocacy services to its clients for years, but the addition of Renee Leggitt, RHU, brings added value to Ironwood's Employee Benefits Clients in all areas of employee claims issues.
As Claims Consultant, Renee will connect with providers and insurance companies to help resolve billing issues, interact with collection or billing agencies, and file member appeals. She will reconcile carrier Explanation of Benefits statements (EOBs) and provider billing statements to solve discrepancies and work diligently with clients and their employees to resolve all claim matters.
"Renee has worked previously on the broker and the carrier sides of our business and we are extremely pleased to have her as part of our support team," says Mark Conner, Managing Partner of Ironwood Benefits Advisory Services. "Having Renee as a resource allows employees to speak to a person, the same person each time, who understands the individual's situation and who can assist each employee with navigating the complex maze of medical claims payments."
Renee comes to Ironwood from Fallon Benefits Group, where she was Vice President, Benefits Advocate Director, leading their Benefits Advocate Team. Prior to joining Fallon Benefits Group, Renee was the Customer Service Manager/Claims Advocate for a large regional employer benefits practice for seven years. Renee has her Georgia Life, Accident and Sickness Insurance License and the HIAA (Health Insurance Association of America) designation. She is a certified RHU (Registered Health Underwriter).
"The addition of Renee as a full time claims consultant will be a continued benefit to our clients. Renee carries on with the Ironwood tradition of providing full claims support to our clients and their employees," said Susan Prout, Senior Account Executive at Ironwood. "Renee's 20 plus years of experience in working with providers and carriers and the relationships she maintains with both result in quick resolution of claims issues."
About Ironwood Insurance Services: Ironwood Insurance Services is a privately held firm providing insurance brokerage, surety services, risk management, employee benefits consulting and human resources outsourcing services. Our firm was founded on the principles of teamwork, integrity and service to others. We recognize that our people are our most valuable asset and believe that great people deliver excellent customer service. Our success is measured by the amount of positive impact we have in the lives of our clients, employees, shareholders and community. To learn more about Ironwood Insurance Services, please visit ironwoodins.com.