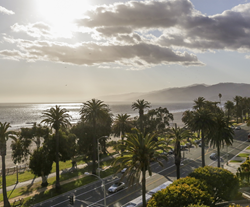 Our live webcam is not only fun, but it also gets our guests excited about their future visits to the hotel for business or pleasure
Santa Monica, CA (PRWEB) June 02, 2015
Whether it's breakfast or lunch at home or the office desk, Hotel Shangri-la's latest technology can easily transport people to paradise for a short break. Santa Monica's Hotel Shangri-la is the quintessential escape to heaven on earth found at the edge of the Pacific Ocean year round. With weather and views this perfect, anyone from around the world can watch daily and dream daily to get a taste of paradise via the hotel's new webcam.
Mother Nature has graciously granted this location a climate akin to paradise, where 310 days of the year are graced by the warm rays of the sun, with sandals and sunglasses mandatory. The panoramic views span 180 degrees of the Pacific Ocean coastline with the ability to snap photos of the sights and instantly share them on social media.
The Santa Monica Beach webcam is hosted atop the Hotel Shangri-la roof and operated by Explore.org, a multimedia organization where people share thoughts, engage in dialogue, view and email films and photographs, and embed their favorites on blogs and social networking sites. Funding is provided by the Annenberg Foundation. The webcam has just reached a major milestone with more than 890,400 views from a global audience.
"Now, we don't mean to brag so much about the weather in Southern California, but it's just about perfect every day of the year," said Matthew Moore, General Manager for Hotel Shangri-la. "Watching the waves on the shores of the Pacific from a world far away is a perfect break from the ordinary. Our live webcam is not only fun, but it also gets our guests excited about their future visits to the hotel for business or pleasure."
Since perfect weather and stunning views are virtually guaranteed, we make it easy to visit paradise in person. Hotel Shangri-la's popular 'We'll Pick You Up' package offers a warm escape to a Pacific Ocean-front room or suite and includes a one-way private car transfer to the hotel from Los Angeles International Airport (LAX). Guests stay in anything but ordinary deluxe or suite accommodations subject to availability (maximum two persons in a deluxe room; three persons in a suite).
Booking the "We'll Pick You Up" package online is simple at http://www.shangrila-hotel.com (click on special offers) or contact reservations(at)shangrila-hotel(dot)com. In anticipation of arrival, check the hotel webcam to get a sneak peek of lush life and the stunning colors of California sunsets.
About Hotel Shangri-la
The original and urbane Hotel Shangri-la at The Ocean in Santa Monica is anything but ordinary and a member of Small Luxury Hotels of the World. Overlooking the Pacific since 1939, the hotel is a striking beacon of Art Deco elegance, a chronicle of the golden era of Hollywood and a quintessential nexus of culture. Hidden away on a high Santa Monica bluff overlooking the ocean and historic Santa Monica Pier, this timeless luxury boutique hotel promises guests their own personal Shangrila. Guests enjoy brilliant views of the Pacific Ocean, a celebrated history and a cultural connection during their stay. In the U.S., for toll-free room reservations only, please call (800) 345-STAY (7829) or for more information, visit http://www.Shangrila-Hotel.com.