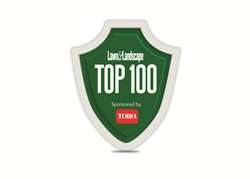 To be selected again in the Top 100 landscape companies in North America is an honor as well as a reflection of all the hard work and effort put forth by the entire organization. - Chris Senske, President/CEO
Kennewick, WA (PRWEB) June 03, 2015
Senske Services has been named one of the largest landscape companies in North America by Lawn & Landscape magazine.
Senske Services ranked 64th on the 2015 Lawn & Landscape Top 100 list, which was published in May and sponsored by Toro.
"Our Top 100 list includes some of the best and brightest leaders in the landscape industry," says Lawn & Landscape Editor and Associate Publisher Chuck Bowen. "These companies have achieved a level of growth that very few others can claim."
The Lawn & Landscape Top 100 is based on 2014 revenue from landscape profit centers, and is reported by each company listed. Companies on the Top 100 list earned total revenue in 2014 of $8,026,808,707. That's $776,283,627 more than in 2013 – an increase of 11 percent. Companies on the list reported total employment (seasonal plus year-round employees) of 86,255 people. The list comprises 97 companies in 31 states and three firms in Canada.
"We're proud to sponsor this annual ranking that recognizes landscape contractors who are at the top of their industry," says David Alkire, vice president, residential and landscape contractor businesses at the Toro Company. "Innovative thinking is key to growth, and we support companies like these that are finding new ways to be successful every day."
This year's list was compiled by Lawn & Landscape editors during the spring of 2015. Email Bowen at cbowen(at)gie(dot)net with comments or questions about the list.
About Senske Services
Senske Services, Inc. is a leading lawn, tree and pest control service provider that is locally owned and operated, with its corporate office based in Kennewick, Washington. It has been a trusted source of lawn, tree and pest control services since 1947 across Eastern Washington, Idaho, and Utah, as well as pest control in Las Vegas, Nevada. To see what Senske Services can do for you, visit http://www.senske.com.