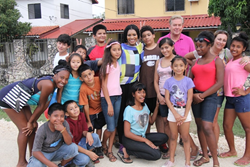 "I am honored to be able to come here with my kids to serve with some great people. Together we mentor and disciple young guys and girls, in a program we help get started call Baby Girls and Champions! (BGC Belize)"
(PRWEB) June 02, 2015
Nicole C. Mullen returns to the country of Belize to continue the work of expanding the philanthropic arm of her ministry, Baby Girl's Club. Baby Girl's Club (B.G.C.), is a ministry minded organization that focuses on life skills, creative arts, biblical principles and equipping young ladies to be successful in their daily lives.
Her ministry to youth began in Nashville, TN around 1993 and has flourished over the years. Nicole has always desired to expand the reach of discipling youth. She first traveled to Belize in 2012. The Lord then gave her the vision, and direction to replicate the work of B.G.C. in the heart of Belize, but this time the emphasis would be the young ladies and the young men. So in 2013, B.G.C. Belize was founded.
"I am honored to be able to come here with my kids to serve with some great people. Together we mentor and disciple young guys and girls, in a program we help get started call Baby Girls and Champions! (BGC Belize)," stated Mullen when asked about her reason for being there. "Here the kids call me 'Aunt Nicole!'"
Last year Nicole was the first Christian artist to ever perform in Belize. She brought her team of 20 plus kids from the States. They were some of the young guys and girls that she has mentored. She also used around 60 Belizean kids to sing and dance with her as well. All of the kids memorized Romans 12 which they performed during the outdoor concert. Her Nashville team did fundraisers to allow them to travel with her to eliminate being a financial burden on the country of Belize. There was no cost to attend the concert, but a suggested donation of $5 dollars to cover expenses, none of which went to Nicole and her team. She looked at this as an opportunity to give back to others in ministry through song. Over 2,500 people attended the outdoor concert even though thundershowers were in the forecast. God answered the prayers of the nation and though it rained buckets throughout the whole country, God held back the rain in the small city of Belmopan during the entire concert…not even a drop. It was heralded by all as a miracle of God! The country was impacted, people came to Christ and lives were changed forever! She has now returned for two weeks, checking on the ministry and loving on the people.
This Tuesday, Nicole will be featured on the Christian Based show, "Divaz Next Door" that promotes the value of women via Education, empowerment and entertainment. The topic for the show will be domestic violence. According to statistical data 70% of those who suffer from domestic violence are employed while 30% are unemployed; 74% of victims are either married or in common law unions. This show will be streaming live 11:30 am CST and can be watched nationwide at http://www.ustream.tv/channel/plustvbelize and later on via you tube. During her visit she has set up a get together with Belizean artists and musicians to counsel and advise them on music. The remainder of her time will be focused on the operations of the baby girls club and the BGC kids and a little R&R.
"It's funny because when people normally think of Belize they think of an island surrounded by beaches. However, Belize is not an island, but it does have beaches...even though we don't always see them. LOL! For me the beauty of Belize is her people and her youth," stated Mullen. The country of Belize has been forever impacted by Nicole Mullen and her ministry, and she has been impacted by it.