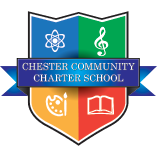 Chester, PA (PRWEB) June 01, 2015
More than 650 parents, guardians and community members are expected to attend the commencement ceremonies of Chester Community Charter School's (CCCS), East and West Campuses, on Monday, June 1 and Tuesday, June 2, respectively. More than 200 eighth-grade students, will graduate. The commencement ceremony will take place at the Clarion Hotel, in Essington, PA.
Continuing the school's long tradition of preparing students for a rigorous and academically challenging high school career, many of the graduates will go on to continue their education at the following institutions, among others: St. Elizabeth's, Chester Springs, PA; Archmere Academy, Claymont, DE; Episcopal Academy, Newtown Square, PA; Cardinal O'Hara, Springfield, PA; Bonner-Prendie, Drexel Hill, PA; West Catholic Prep, Philadelphia, PA; and Archbishop Carroll, Wayne, PA.
From the inception, in 2009, of CCCS's High School Search and Selection Placement Program, the Gureghian Charitable Foundation has awarded full or partial scholarships to more than 225 graduates, in a total amount of $9.5 million.
About Chester Community Charter School
Chester Community Charter School opened its doors on September 9, 1998, serving 97 students from its modest, four, meeting rooms, in the lobby of the Howard Johnson Hotel, in Chester, PA. Since that time, the school has steadily grown to include more than 3,000 students in 11 state-of- the-art-buildings, spanning three campuses.
WHO:
Dr. David Clark, CEO, Chester Community Charter School
Approximately 210 eighth-grade graduates, in total
More than 650 parents, guardians, administrators, faculty, and community members, for each ceremony
WHEN:
June 1, 2015 (East Campus)
June 2, 2015 (West Campus)
6:30pm
WHERE:
Clarion Hotel
76 E. Industrial Highway
Essington, PA 19029
###