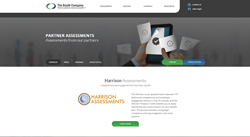 "Talent development is part of a life cycle that begins with selecting the right candidates. Combining the Harrison Assessments with our existing services will allow us to provide robust, end-to-end development solutions."
Boulder, Colorado (PRWEB) June 03, 2015
The Booth Company (TBC), a global assessment provider with over 4 decades of experience, specializing in 360 Degree Feedback and survey customization has recently announced a deal to partner with Harrison Assessments. This new partnership rounds out TBC's capabilities and positions them as a global leader in validated 360 content, survey customization, intelligent assessment hosting, and now – Talent Decision Analytics.
In the age of big data, talent analytics is quickly becoming one of the most sought after tools for companies looking to improve employee selection, retention, and succession planning. The Harrison Assessment has proven to be a highly-predictive tool that measures a candidates' suitability for a given role, and it was recently awarded the highly coveted Best Advance in Candidate Selection Technology by the prestigious Brandon Hall Group.
"Our core mission has always been to provide world class talent development tools for our customers," said Derek Murphy, CEO of The Booth Company, "Talent development is part of a life cycle that begins with selecting the right candidates. Combining the Harrison Assessments with our existing services will allow us to provide robust, end-to-end development solutions."
Unlike assessments that indicate personality styles, the Harrison Assessment predicts, with a high degree of accuracy, a person's likelihood of success in a given position by identifying traits that differentiate high performers from low performers. In addition, the wrap-around technology allows a company to integrate scalable talent and selection programs that reduce cost while increasing overall effectiveness.
Some of the key features of the Harrison Assessment Include the ability to:

Make data-driven hiring decisions with a greater degree of success
Reduce costs associated with turnover and unsuccessful new hires
Provide strong validity and legal compliance without adverse impact
Automate internal and external talent pools with advanced technology
Easily customize from an existing library of over 6500 Job Profiles
The predictive nature and overall validity of the Harrison Assessment was the key driver in TBC's decision to incorporate this into their assessment solutions practice. According to Josh Sheets, Director of Operations, "we wanted a tool that would provide value to our clients, but most importantly we knew it had to deliver data our clients can trust." Based on multiple validation studies, the Harrison Assessment appears to provide just that: highly predictive, reliable data. It's this reliability that will further bolster TBC's already strong reputation of providing valid 360 feedback surveys. The partnership is now fully operational and marks an exciting chapter in TBC's evolution as a provider of Leadership Development Solutions.