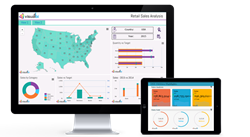 Plano, Texas (PRWEB) June 03, 2015
Visual BI Solutions, a leader in Business Intelligence and Analytics solutions, today announced the launch of the second release of its successful Design Studio EXtensions (DSX) for SAP® BusinessObjects™ Design Studio. The Design Studio EXtension suite allows customers to embed additional visualization capabilities and advanced functionalities into their dashboarding projects.
With the second release of the DSX suite, Visual BI is adding key components for customers that are looking to migrate their existing projects using Web Application Designer or SAP BusinessObjects Dashboards software. These components enable users to integrate local Microsoft Excel spreadsheets and to perform what-if analysis in a dashboard in SAP BusinessObjects Design Studio.
"With the second release of our extensions for SAP BusinessObjects Design Studio, we are not only adding a few new components for our customers, but we are giving them the ability to move their dashboard projects to the next level" said Ingo Hilgefort, vice president, Product Management, Visual BI.
Highlights of the Design Studio EXtensions release 2:
1.10+ additional chart types, such as bullet chart, waterfall chart, drill-down charts, multi-axis charts, sparkline charts and many more.
2.New advanced features for all charts, such as conditional formatting on any measure and the ability to configure a common identical scale for multiple charts.
3.Support for hierarchies in the SAP Business Warehouse (SAP BW) application with a hierarchical drill-down in charts.
4.New components such as an advanced table with extensive formatting capabilities and a KPI tile with Sparkline chart support.
5.Time-based filtering with the ability to configure a fiscal-year option.
6.Ability to use Microsoft Excel and Google Spreadsheets as a data source for rapid prototyping.
7.Extensive PDF export options from single component to a complete dashboard.
8.A new what-if scenario component allowing customers to run scenarios quickly as part of their dashboards in SAP BusinessObjects Design Studio.
To learn more about DSX for SAP BusinessObjects Design Studio, please visit
http://visualbi.com/sap-design-studio/dsx-extensions/
To register for a free 30-day trial of DSX for SAP BusinessObjects Design Studio, please visit:
http://visualbi.com/DSXTrial
About Visual BI
Visual BI is one of the nation's fastest-growing boutique consulting firms focusing exclusively on Business Intelligence (BI) and Analytics. Headquartered in Plano, Texas, Visual BI has won recognition from customers for high-touch engagements driven by its team of platinum-level consultants, agile delivery model and innovative solutions. Visual BI offerings cover end-to-end BI services, industry and domain-specific solutions, cloud-based analytics and custom visualization controls.
Visual BI's end-to-end BI expertise includes SAP BW, SAP BusinessObjects BI solutions, the SAP HANA® platform and the SAP Business Planning and Consolidation application, and visualization tools such as SAP BusinessObjects Dashboards, SAP Lumira® software, Tableau, TIBCO Spotfire and more.
For more information, please visit http://www.visualbi.com
Follow Visual BI on Twitter @visualbis / latest updates on http://visualbi.com/blogs/
For media related information, please contact: pr(at)visualbi(dot)com
###
SAP, BusinessObjects, SAP HANA, SAP Lumira and other SAP products and services mentioned herein as well as their respective logos are trademarks or registered trademarks of SAP SE (or an SAP affiliate company) in Germany and other countries. See http://www.sap.com/corporate-en/legal/copyright/index.epx for additional trademark information and notices. All other product and service names mentioned are the trademarks of their respective companies.