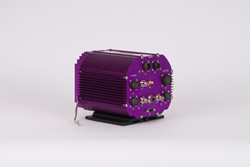 "At Wi-Tronix we are committed to improving the safety, reliability, and efficiency of rail operations through continuous innovation." -Larry Jordan, Wi-Tronix President
Bolingbrook, IL (PRWEB) June 03, 2015
Wi-Tronix®, the industry leader in high-value mobile asset monitoring, announced today its continued commitment to safe rail operations with its Attention Assist and In-Cab Audio Alerts solutions. Attention Assist assembles critical, time-sensitive information during locomotive operation, which is made available to the engineer/driver via an in-cab easy-to-read display. The In-Cab Audio Alerts further enhance safe train operations with notifications provided to the engineer/driver with an in-cab speaker.
"Since 2000 train passenger ridership has increased 50 percent and freight rail traffic has hit an all-time high*; therefore, it is more critical than ever that railways are safe," stated Larry Jordan, President of Wi-Tronix. "At Wi-Tronix we are committed to improving the safety, reliability, and efficiency of rail operations through continuous innovation."
Key Features of Attention Assist are as follows:
•Graphical speedometer with current and approaching speed limits
•Graphical track diagram displaying speed limit, mile/kilometer posts, and signal distances
•Customizable train route alerts including location of switches, quiet zones, signals, and stations
•Locomotive/driver interaction
•Integration with in-cab audible alerts
The In-Cab Audio Alerts notify the engineer/driver about**:
•Safety non-compliance
•Speed non-compliance
•Weather warnings
•Train handling non-compliance
•Fuel efficiencies
Further product information is available at http://www2.wi-tronix.com/products-services.
About Wi-Tronix, LLC
Wi-Tronix is a leading provider of remote monitoring solutions for high-value mobile assets used in the rail, marine and mining markets, and in other commercial and industrial operations. Since 2004 Wi-Tronix has been working with businesses to improve the operational efficiency, service reliability, and safety of their high-value assets. Wi-Tronix corporate headquarters are located in Bolingbrook, IL. For more information visit wi-tronix.com or follow Wi-Tronix on Twitter at @WiTronix.
Notes:
*"Safety Fact Sheet", U.S. Department of Transportation, Federal Railroad Administration, February 2014
**Separate hardware and service subscription are required to enable Attention Assist In-Cab Audio Alerts.