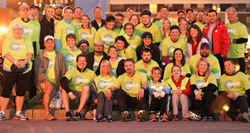 $97,000 Raised for the Children of Orchard Place, thanks to Record Corporate Sponsorships, 700+ Cyclists and 156 Volunteers
Des Moines, Iowa (PRWEB) June 04, 2015
Orchard Place, mental health experts for Iowa's children, is proud to announce results of its fourth annual Moonlight Classic bike ride held Saturday, May 30. With the help of more than 700 cyclists, 156 volunteers and many corporate sponsors, Orchard Place was able to raise a record $97,000 to fund Orchard Place Summer School and its Enrichment and Latino Outreach programs for children with emotional and behavioral challenges. Without proceeds of the Moonlight Classic, these vital programs would not be possible.
For the fourth year, Sammons Financial Group was the presenting sponsor of the ride. Additional sponsors included: HyVee, Kohl's, Mediacom, iHeart Radio, Amerigroup RealSolutions, Bankers Trust, EMC, Marsh, Price Chopper, EMC Insurance, Clear Channel Outdoor, elBait Shop, Alliance Technologies, Delta Dental of Iowa, Des Moines Truck Brokers, Engineering Resource Group, Kevin Bannister/RBC Wealth Management, Quality Services Corp., LMC insurance & Risk Management, NCMIC Group, Medicap Pharmacy, Meredith Corp., MidAmerican Energy, Netsmart Technologies, UnityPoint Health, Fareway Stores, Baker Electric, Voya Financial, Mark J. Becker & Associates, Capital Sanitary Supply, Voss Distributing, Homesteaders Life Co., Knapp Properties, ARAG Group and Bike World.
"In addition to our event sponsors, special thanks goes out to the many volunteers who helped make this event possible," said Orchard Place Vice President of Development Nancy Bobo. "The growing interest and participation in this year's Moonlight Classic was built on the ride's past success and reputation as one of the premier family friendly fun bike rides in Iowa."
Bikers were eager to enjoy the 13-mile night bike ride through the streets of downtown Des Moines. Each year's ride has featured new views past major Des Moines landmarks.
Award winners were:
Best Costume – Diedra Chopp as Isis, the Greek Goddess
Best Bike Lights – Mary Carlisle
Best Helmet Lights – Kevin and Mary Carlisle
Moonlight Cup (largest team of registered cyclists) – Mark Becker and Associates with 99 cyclists.
About Orchard Place:
Orchard Place is the oldest locally-based charity in Des Moines providing mental health treatment and expertise serving Iowa's kids. Our inpatient, outpatient and community programs serve nearly 10,000 children from birth to age 22 annually. Four operating divisions work under the Orchard Place umbrella of services: Child Guidance Center, Orchard Place Campus, PACE Juvenile Center and the Integrated Health Program. More information can be found at http://www.orchardplace.org.