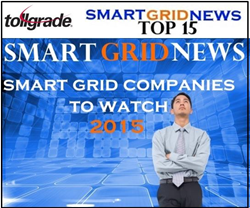 Tollgrade was, by far, endorsed by the most electric utilities and one of our favorites in this year's Smart Grid Companies to Watch
Reston, VA (PRWEB) June 03, 2015
Tollgrade Communications, Inc., the industry leader in redefining the global standard for reliability at the world's largest electric utilities and telecommunications providers, announced today that it was named one of the "Top 15 Smart Grid Companies to Watch" by Smart Grid News for its turnkey and highly affordable LightHouse® grid modernization solution.
"Countless utilities are singing Tollgrade's praises," reported Smart Grid News in its announcement of the award, adding that "Tollgrade was, by far, endorsed by the most electric utilities and one of our favorites in this year's Smart Grid Companies to Watch."
Utility feedback
In its announcement of the award, Smart Grid News cited praise for Tollgrade's LightHouse solution by an impressive roster of utilities. In one example, Pacific Gas & Electric (PG&E) selected Tollgrade in a competitive RFI process due to the enhanced capabilities of the LightHouse platform. Jim Meadows, director of Emerging Grid Technologies for PG&E, commented that "Tollgrade LightHouse MV Sensors are battery-free, allow low maintenance costs and capabilities to support integration of distributed generation, and more accurate fault classification and location identification."
In another example, Veridian Corporation, one of Ontario's largest electricity distribution companies, turned to Tollgrade's LightHouse platform in 2013 after growing frustrated with more traditional methods for identifying fault locations in its distribution systems, such as fault current indicators (FCI), line patrolling by crew, re-fusing and manually opening and reclosing circuit sections. Such methods are time consuming, expensive, and potentially dangerous.
Smart Grid News quoted Falguni Shah, Veridian manager of Distribution Automation, who explained, "We grew frustrated with traditional methods that often led to longer outage times and exposed distribution system equipment to fault current multiple times until the fault could be located." Tollgrade's LightHouse platform was regarded as a "'safe, maintenance-free solution that could reduce operations and maintenance expenses plaguing traditional fault detection methods,' while reducing the company's need to rely on line patrols and allowing them to 'proactively respond to outages and get the power back on faster.'"
Manitoba Hydro cited similar reasons for choosing Tollgrade's platform for its grid modernization efforts, reported Smart Grid News. "Tollgrade is the only sensing solution to deliver grid visibility down to three amps through inductively powered sensors that eliminate the maintenance costs required to support battery powered alternatives," said Graham Eason, CET distribution performance coordinator of Distribution Engineering Services, Distribution Engineering & Construction – Rural Manitoba Hydro. He continued, "Unlike first-generation fault indicators, the LightHouse platform combines its highly accurate sensor technology with an analytics software package to classify grid conditions and assess the health of the network. This proved to be a very successful combination at Manitoba Hydro as we look to gain more visibility into our distribution grid."
Orange & Rockland, a ConEdison Inc. company, started working with Tollgrade in 2014 and has since expanded its sensor deployment to areas in their network where power outages are a problem. Smart Grid News quoted feedback provided by Frank Peverly, vice president of operations for Orange & Rockland Utilities. "Using Tollgrade's LightHouse MV Sensors, the utility knows about outages 10 to 15 minutes before the first person in its service territory calls to report the outage," Mr. Peverly said. He continued, "Having this solution has not only helped us get the lights back on in bad weather, we've also been able to respond proactively to prevent outages on our network." With Tollgrade's platform, when a sensor detects a fault, a text message is sent to the utilities' engineers to determine an immediate, and best, course of action.
Also among the numerous examples cited in the announcement of the award was NV Energy. Ron Kirker, senior engineer of Distribution Planning at NV Energy, told Smart Grid News that Tollgrade's "LightHouse platform is a very affordable way to get the distribution planning information we need from across our network, in real-time. The ability to program high current alarms means we do not have to constantly monitor the system. Instead, we are alerted when we need to investigate a problem. The LightHouse software allows us to pre-configure alarming and alerts so we can customize the solution to our unique needs. Using sensors and software in this way is a very innovative approach – and it is an affordable way for us to solve problems with technology that has not been readily available."
Tollgrade is also quickly expanding its footprint in the United Kingdom through a number of smart grid projects that have the potential to reach more than 10 million UK residents, and was recently awarded the "2015 Best Smart Grid Innovation" at the Energy Innovation Centre's (EIC) UK Energy Innovation Awards.
To learn more about the Smart Grid News Top Smart Grid Companies to Watch in 2015, visit the SmartGridNews.com website.
About Tollgrade
With more than 200 million lines under test, millions of utility outage minutes avoided annually and 25 years of experience successfully locating faults at the world's largest electric utility companies and telecommunication service providers, Tollgrade is redefining the global standard for reliability. Our award-winning fault detection hardware and predictive analytics software are deployed on four continents to help operators avoid network outages and reduce customer downtime. Since 2013, Tollgrade has won more than twelve awards, established itself as the world's market share leader of smart grid sensors and was recognized by President Bill Clinton for a Commitment of Action to build a "Predictive Grid in the Motor City" with DTE Energy in Detroit. To learn more about Tollgrade, visit http://www.tollgrade.com or read more about the benefits of grid modernization on our blog.
Tollgrade Media Contacts:
Anne-Laure Leroyer
Marketing Director
Tollgrade Communications, Inc.
+1 202-701-0083 (mobile)
ALeroyer(at)tollgrade(dot)com
UK
Marcus Edgar
Resonates SLM Ltd
Newbury, Berkshire
t. +44 (0)1635 898 363
m. +44 (0)7810 876 077
e. marcus(at)resonates(dot)com