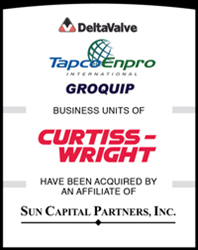 Charlotte, NC (PRWEB) June 02, 2015
BlackArch Partners is pleased to announce the sale of Curtiss-Wright's Downstream Oil and Gas Businesses ("Curtiss-Wright Downstream"), including the DeltaValve, TapcoEnpro International and GROQUIP business units, to an affiliate of Sun Capital Partners, Inc.
BlackArch was retained by Curtiss-Wright Corporation to serve as its exclusive financial advisor.
About Curtiss-Wright Downstream
DeltaValve provides products and solutions that enhance the heavy crude refining process. This includes secondary processing techniques such as delayed coking, which enables the processing of heavier grades of crude oil and enhanced extraction for refiners including coke drum unheading systems, auto-switch cutting tools and enclosures, and a retractable center-feed device.
TapcoEnpro International is a provider of high performance valves, pressure vessels, electro-hydraulic actuator systems, high pressure reactor vessels, fluid catalytic cracking unit equipment and other mission-critical products and services to the global refining and petrochemical markets.
GROQUIP supplies pipeline and offshore valve and actuation services to oil and gas production and exploration industries; relief valves, pressure storage devices, and rupture discs to the chemical, petrochemical and refining markets; and field and in-shop engineering servicing.
About Sun Capital Partners, Inc.
Sun Capital Partners is a global private equity firm focused on identifying companies' untapped potential and leveraging its deep operational and financial resources to transform results. Sun Capital is a trusted partner that is recognized for its investment and operational experience, including particular expertise in the consumer products and services, food and beverage, industrial, packaging, chemical, building products, automotive, restaurant and retail sectors. Since 1995, Sun Capital has invested in more than 315 companies worldwide across a broad range of industries and transaction structures. Sun Capital has offices in Boca Raton, Los Angeles and New York, and affiliates in London, Frankfurt, Paris, Stockholm and Shenzhen.
About BlackArch Partners
BlackArch Partners is a leading middle-market investment bank offering a full spectrum of advisory services to financial sponsors, private companies and diversified corporations. BlackArch addresses the needs of owner-operators, founders and shareholders of private companies with specialized services that include M&A advisory, strategic advisory and private capital solutions. Headquartered in Charlotte, NC, with offices in Houston, TX, BlackArch features a total of 12 industry-focused practices that cover all sectors of interest to middle-market investors; BlackArch professionals have closed more than 300 transactions in 16 countries on four continents. Please visit our website, blackarchpartners.com, for more details.
Securities offered through BlackArch Securities LLC. Member FINRA and SIPC.