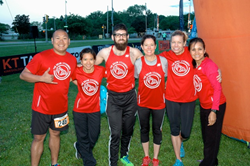 Support U of Illinois Hospital & Health Sciences System Neurosurgery staff Brainstormers who are running 200 miles to raise money for he Brain Aneurysm Foundation and to support Illinois brain aneurysm survivors.
Hanover, MA (PRWEB) June 03, 2015
Come on out in support of the 4th Annual Ragnar Relay, a 200-mile overnight relay beginning in Madison, Wisconsin on Friday, June 12th and concluding in Chicago, Illinois on Saturday, June 13th.
For the 4th consecutive year, a very dedicated group of runners called the Brainstormers will run to raise money for the Brain Aneurysm Foundation.
The 12-member team is composed of different members of the Neurosurgery staff from The University of Illinois Medical Center, including nurses, a pharmacist, occupational therapists, physical therapists, and speech pathologists.
Please visit the event website for more information or Keri Kim at skim42(at)uic(dot)edu.
Now celebrating 20 years of service, the Brain Aneurysm Foundation was established in 1994 in Boston, Massachusetts with a mission to promote early detection of brain aneurysms by providing knowledge and raising awareness of the signs, symptoms and risk factors; work with the medical communities to provide support networks for patients and families; as well as to further research that will improve patient outcomes and save lives. For more information about the Brain Aneurysm Foundation, visit http://www.bafound.org.