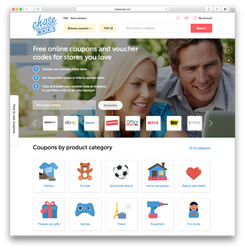 You could call ChaseCode 'Coupons 2.0' platform!
San Francisco, California (PRWEB) June 04, 2015
The site's curated focus on the best merchants lends ChaseCode a strong competitive advantage in the messy coupon codes landscape full of low quality content. Its broad customer focus and easy-to-use interface helps ChaseCode to reach online shoppers young and old, expanding bargain-hunting experience beyond the mainly tech-minded shoppers of earlier savings portals.
A number of functions distinguish ChaseCode from similar portals such as RetailMeNot and CouponCabin. The store review functions allow ChaseCode users to evaluate retailers and exchange views with other shoppers, introducing a new layer of quality control through community feedback. ChaseCode's dynamic stores filtering tools allow users to easily sort brand-name retailers by the number of coupons offered, number of comments or popularity, enabling rapid navigation of the ChaseCode partner retailers. The Top 15 coupons list represents an automatically updated selection of coupons and deals admired by ChaseCode users most of all, and promises to become a go-to location for most sophisticated shoppers.
"You could call ChaseCode 'Coupons 2.0' – it offers an entirely remastered user experience of high quality. We're proud to provide users with the most convenient navigation of any coupon site to date," stated ChaseCode founders.
ChaseCode's personalization functions allow users to get in closer relationships with America's top retailers and form personalized coupons feed by following stores and product categories that correspond to their interests, from consumer technology and power tools to childrens' goods and high fashion.
ChaseCode management team predicts strong growth and market expansion for 2015: "Thanks to ChaseCode's tablet-friendly design and cutting-edge coupons search tools, the website promises to deliver savings to an increasing segment of the American online bargain-hunting community."