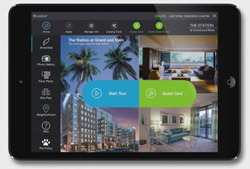 Using this app on the iPad saves a ton of time. Customer Review - Aura 3300
DALLAS, TX (PRWEB) June 17, 2015
"We have just taken this product live and we already have clients clamoring for LeasingBook," says Becca Wilson President & CEO of Spherexx.com. The application is now available on Apple ITunes Store under "leasing tablet" search.
The website, software development and business intelligence company has been providing Internet marketing and management services especially for the multi-housing industry since 2000. Mobile technology tools are in high demand by apartment managers and prospective renters alike. Tablet leasing applications have not always been reliable in the past, often experiencing a loss of Internet connectivity when users were weaving in between buildings and touring peripheral apartment locations, for example.
LeasingBook does not require external software or Internet connectivity to function.
Spherexx.com designed LeasingBook to work on three levels depending on the management company's selection of options. All three levels offer a unique feature that saves time by creating an instant guest card from on-site prospects, which thereby eliminates errors and enhances security. Basic features also include the ability to text or email floor plans and photographs. Standard tools also showcase amenities, site plan; neighborhood points of interest map, policies, Q&A, and unit availability list: all of which can be updated by the user without special knowledge or training.
LeasingBook can perform more advanced services when partnered with Spherexx's ILoveLeasing.com lease conversion software. Guest cards created in LeasingBook will deliver into the apartment CRM (customer relationship management) and generate sophisticated email communications, behavioral tracking, demographic capture and a host of scheduling, metric, budget and follow-up tools. When the company is using a revenue management application, such as RentPush® by Spherexx.com, the program will generate and deliver a quote sheet. Prospects can complete an online application for residency.
Additional services are also available through accounting software integration, which is not restricted to any particular property management accounting software or service provider. With this advanced operation, a user can create a wish list of amenities or unique unit features that serves up available unit selections. The unit can be instantly accessed by dropdown menu and viewed on a dedicated feature page.
There are multiple benefits in leasing by tablet. The leasing team member has the prospect's undivided attention when touring a model or available unit or while strolling through the grounds. There are no interruptions or undesirable "background noises" to distract their attention. Prospects can tour community and unit features from the comfort of a model apartment, picnic table, or poolside venue. They can surf information in a familiar format.
Spherexx.com will be giving LEASINGBOOK DEMOS at the National Apartment Association's Educational Conference and Tradeshow at Mandalay Bay in Las Vegas, June 24 through 26. They can conduct a webinar demo as well. Visit http://www.Spherexx.com/Quote to schedule.
ABOUT SPHEREXX.COM® AD AGENCY | SOFTWARE DEVELOPMENT | BUSINESS INTELLIGENCE
Spherexx.com® is a leading provider of Internet services for the multi-family industry since 2000. The company is a one-stop shop, from creative branding concepts to revenue boosting campaigns, including website design and development; cloud-based leasing and management tools; Internet lead generation; advertising, hosting, data storage, networking, integration, revenue management, business intelligence, prospect and lead management, touchscreen kiosks, SEO strategy, and mobile technology. Spherexx.com also provides iPad/Android tablet hardware fully loaded and ready to go.
BRANDS INCLUDE: RentPush.com Revenue Management, ILoveLeasing.com Apartment CRM, MarketSurveyTools.com, ApartmentWebsites.com, ApartmentKiosk.com, MultifamilyDueDiligence.com, MessageKast.com, RENTIntel Business Intelligence and other cloud based products and services.