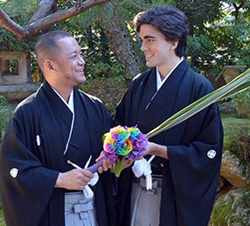 New member Remote Lands reflects our global growth. They offer LGBT-welcoming tours in 33 countries throughout Asia
(PRWEB) June 03, 2015
Remote Lands, the world's leading ultra-luxe Asia travel designer, has underlined its commitment to offering LGBT-friendly luxury Asia holidays by becoming a member of the International Gay & Lesbian Travel Association (IGLTA).
The company, which already has a sizeable LGBT client base, has joined the organization to strengthen its ties to the gay community and to stress its dedication to offering gay-friendly luxury bespoke holidays to over 30 different Asian countries. Whether it's destinations that already have a gay-friendly reputation (for example Thailand, Singapore, Bali, Manila or Taipei) or those with smaller but growing LGBT communities (such as Saigon, Mumbai, Shanghai or Dubai), Remote Lands has considerable expertise in meeting the requirements and standards of LGBT travelers.
"We're pleased to see the tours offered by our members expanding far beyond what have been traditionally thought of as LGBT destinations," IGLTA President/CEO John Tanzella said. "New member Remote Lands reflects this global growth. They offer LGBT-welcoming tours in 33 countries throughout Asia."
Further emphasizing their dedication to serving and supporting the LGBT community, Remote Lands has launched a brand new LGBT travel microsite. The new microsite offers a series of different customizable Asia-exclusive itineraries and experiences geared towards affluent LGBT travelers which range from luxury pool villas and private jets to unique adventures within far-flung cultures off the beaten path. Visitors to the microsite have the option to search by country or interest (Architecture & Heritage, Arts & Music, Asian Culture, etc.) to plan their trips and see what offerings are available. The site also features a blog with first-person accounts of LGBT-friendly destinations penned by Remote Lands' staff members, as well as agent and client testimonials.
"It should go without saying that Remote Lands and all travel companies in general are LGBT friendly, but in this day and age in America that still cannot be assumed," said Remote Lands' co-founder & CEO Catherine Heald. "In the meantime, we felt we needed to make a statement that we openly welcome our LGBT clientele who wish to travel to Asia and we hope our new microsite will be a useful resource. We are open minded and we personalize all itineraries to fit our clients' own specific interests and needs - whatever they may be."
To find out more about LGBT Asia travel with Remote Lands, visit http://www.remotelands.com/lgbt/ and also read their blog post about Asia's LGBT-Friendly Destinations.
About Remote Lands, Inc.
Remote Lands, Inc. creates highly personalized and unique, ultra-luxury holidays throughout Asia. Based in New York and Bangkok, the company specializes in extraordinary experiences that are difficult to arrange and require privileged access to important people and exclusive events, drawing upon Remote Lands' relationships with remarkable people around Asia. Unparalleled service, creative itineraries and extreme attention to detail are what set Remote Lands apart.
###
Media Contacts:
Katie Barr Cornish / Emma Silverman
11*6 PR
Katie@elevensixpr.com / emma@elevensixpr.com
646-325-5894 / 647-780-0159