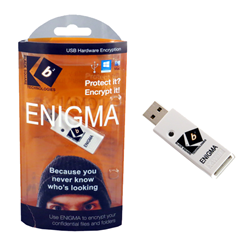 "Enigma is really an investment in peace of mind." -- Jim Cantrell, president and CEO, Strategic Space Development.
(PRWEB) June 08, 2015
Think your confidential data is safe from hackers?
The worldwide community of data thieves can hold your data hostage, ruin credit in the blink of an eye and cause immeasurable amounts of grief to those who have been hacked. Even the White House, Pentagon and large corporate organizations aren't immune. And anyone storing data in the cloud is especially vulnerable.
BlackSquare is introducing a simple but extremely secure way to protect files on any computer or storage device, including files stored in the cloud. It's called Enigma. It looks and feels like a USB thumb drive. But it doesn't store files. It encrypts them.
Enigma is now being offered to consumers and small to mid-size businesses. But it's also being used by large companies and government agencies required by law to protect their data.
BlackSquare Technologies has spent five years developing Enigma and is now introducing it to the public. It's a patented, real time hardware encryption and key management device compatible with Windows and MAC operating systems. Enigma simply plugs in to the USB port.
"Data theft is growing by leaps and bounds, and it puts confidential data at risk," said Robert Fleming, founder and director of BlackSquare Technologies. "The only reliable way to protect your data is to encrypt data that's important to you or to your company. Enigma is a simplistic, innovative and comprehensive piece of technology."
BlackSquare Enigma is "fast, secure, flexible and inexpensive," said David Duncan, chief marketing officer for Webroot, which offers Internet security software for personal and business use. "An incredible solution for consumers and businesses." Duncan is a former Federal Information Processing Standards (FIPS) review and certification board member and former NSA cryptologist.
BlackSquare Enigma is now available from B&H Photo, Best Buy, Amazon, Micro Center and other retailers.
BlackSquare offers an optional annual subscription program providing updates and technical support.
"Enigma is really an investment in peace of mind," said Jim Cantrell, president and CEO of Strategic Space Development. "I keep a lot of confidential information on my laptop," he said. "I'm usually very careful about keeping my laptop under close physical control but had an unfortunate lapse and left it on a plane. That could have cost me dearly if not for the Enigma."
BlackSquare Enigma incorporates AES-256 encryption, which has been certified by the National Institute of Standards and Technology (NIST), Canada's Communications Security Establishment (CSE), Japan's Personal Information Protection Act (PIP), and other security organizations. The resulting high level of security makes Enigma eligible for sale into enterprise and government markets.
New users create a logon password of up to 32 characters to initialize their BlackSquare Enigma. They can then assign separate passwords, also up to 32 characters, to individual files or folders they want to encrypt. Different files can have different passwords.
For more information, please visit http://www.blacksquaretechnologies.com.
Contact:
Robert Fleming, Founder
BlackSquare Technologies
303-915-4164
Robert(at)BlackSquareTechnologies(dot)com