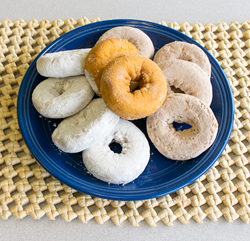 National Doughnut Day has special meaning for us here at Watson
West Haven, CT (PRWEB) June 04, 2015
In honor of one of the most beloved culinary holidays, Watson Inc. is pleased to announce the delectable addition of its Old Fashioned Doughnut Mix to its line of gluten-free baking mixes.
"National Doughnut Day has special meaning for us here at Watson," stated Moira Watson, Vice President of Marketing and Communication at Watson Inc. "My grandfather, James Watson, started this company by making doughnut mixes. In fact we still have his original recipes! So it is rather fitting that we are able to announce our new gluten-free doughnut mix in time for National Doughnut Day so soon after we celebrated our 75th year in business".
Watson's Old Fashioned Doughnut Mix is sold as a complete mix that only requires the addition of oil and water. All of Watson's commercialized mixes are certified gluten-free by the Gluten Intolerance Group.
About Watson:
Watson is one of the highest quality suppliers of products and services geared towards enhancing human health and nutrition around the world. We are a leader in developing quality products and innovative ingredient systems for the food and supplement industries. Expertise in custom nutrient premixes, microencapsulation, agglomeration, micronizing, spray drying, and film technology allow us to develop unique formulations and products using Watson manufactured value-added ingredients. For more information on Watson see http://www.watson-inc.com.