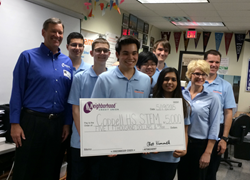 It is a privilege to play a small role in helping to make their dream become reality.
Coppell, Texas (PRWEB) June 05, 2015
Answering a call from their neighbors in need, Neighborhood Credit Union presented a $5,000 check Tuesday to a group of Coppell High School engineering students to help fulfill their dream of traveling to Boston in June to present their invention to engineers and entrepreneurs at the Massachusetts Institute of Technology.
A dozen Coppell juniors and seniors have been working for more than a year on a high-tech product – called Gateways – designed to help with the unique educational challenges of their schoolmates with special needs.
The device has different modules with on-screen stimuli that can be tailored to individual students to help improve their motor functions and brain responses. Using lights, sounds and visual feedback as incentives, Gateways employs the latest technology to encourage each student to interact with the modules, receive rewards when he or she completes a task, and make progress toward the next achievement.
Coppell High School STEM Academy Coordinator Mike Yakubovsky – known as "Coach Yak" by his team of engineering students – explained that the Invention Team developed the product after witnessing the lack of appropriate tools for high school students with special needs.
"We have students here who are at a Pre-K or Kindergarten level cognitively, but the tools and devices available to help them learn are not appropriate for high school students," explained Yakubovsky. "Our Invention Team has designed and developed a product that gives these students the tools they need to further their education and growth in a fun and rewarding way, while collecting valuable data so their teachers can see how they are learning, what is working well, and what may need to be modified."
Coppell High School Junior Zane Erickson said he and his Invention Team cohorts have benefited tremendously from the opportunity.
"It is fulfilling to work on a project that challenges us intellectually and enables us to do something good for the benefit of our fellow students," said Erickson. "And of course, it doesn't hurt that we will get the honor of presenting our product to world-renowned innovators at MIT."
"We are thrilled to be able to help out these kids who are working so hard to help out other kids in the community," said Chet Kimmell, president of Neighborhood Credit Union. "It is a privilege to play a small role in helping to make their dream become reality."
About Neighborhood Credit Union: The oldest credit union in Dallas (chartered April 18, 1930), Neighborhood Credit Union is a not-for-profit financial organization serving Dallas and Ellis counties, as well as the city of Arlington. With branches in Oak Cliff, North Dallas, Richardson, Arlington, Mesquite, Duncanville, Waxahachie, Lancaster, Grand Prairie and Coppell and assets topping $360 million, Neighborhood Credit Union has a membership of 32,000 and continues to welcome new members daily. For more information, call (214) 748-9393 or visit http://www.myncu.com.