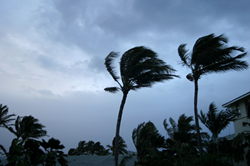 Glastonbury, CT (PRWEB) July 21, 2015
June 1st marked the beginning of the 2015 Hurricane Season, which officially lasts until November 30th. Summer travel season is also in full swing and the unpredictability of hurricanes means travel plans could potentially be threatened. In 2014, there were six hurricanes, and the number of storms and their severity has continues to increase. Traveling to a destination outside of the hurricane path does not mean that an individual;s travel plans will go unaffected. In fact, even if the planned destination is not within the hurricane path, storms can greatly affect travel and flight schedules at airports all across the country.
Travel insurance offers useful coverage, particularly for hurricane season. Travel Insured International encourages anyone traveling during the 2015 Hurricane Season to purchase travel insurance not only to protect their investments, but also their safety. While an insurance plan solely for the disruption of a hurricane is not available, purchasing a plan with coverage that protects the inconveniences that hurricanes can cause can be helpful. Check out some of the best tips dealing with travel insurance coverage that people might often overlook.
1. Purchase a policy no matter where you are traveling to.
A common mistake travelers make during hurricane season is assuming there will not be any issues because the planned destinations would most likely not be in the path of a hurricane. Storms can delay or cancel flights around the world, ultimately delaying the itinerary no matter where the location.
2. Purchase a policy before the storm has a name.
Travel Insured suggests that travelers purchase a policy when the first payment towards the trip is made. Purchasing a policy too late or after the storm exists will not give you the coverage needed if a hurricane alters the set travel plans.
3. Purchase a policy with the Cancel for Any Reason benefit.
If a traveler has any concern about the weather interfering with set travel plans, having the Cancel for Any Reason benefit is the best way to get the coverage needed.
To learn more, visit http://www.travelinsured.com.
*Insurance benefits are underwritten by the United States Fire Insurance Company. Fairmont Specialty and Crum & Forster are registered trademarks of United States Fire Insurance Company. The Crum & Forster group of companies is rated A (Excellent) by AM Best Company 2014. Terms and conditions apply. Not all coverage is available in all jurisdictions.Travel Assistance Services are provided by an independent organization and not by United States Fire Insurance Company or Travel Insured International.
Founded in 1994 by Peter Gehris, Travel Insured International is one of the leading travel insurance providers, offering the highest quality worldwide travel insurance protection for over 20 years. Located in Glastonbury, Connecticut, the company offers an array of travel insurance protection benefits including Emergency Assistance and Evacuation, Trip Cancellation and Trip Interruption Protection, Medical Insurance, Baggage Insurance, Airline Ticket Protection, and more.Travel Insured maintains relationships with specialty travel providers and tour operators, as well as provides 24/7 insurance assistance that allows you to travel relaxed, travel secure, and travel insured.
Travel Insured International
855 Winding Brook Drive
Glastonbury, CT 06042