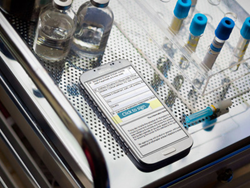 Technology adoption in the life sciences industry is completely dependent on meeting strict security and compliance standards.
CHATTANOOGA,Tenn. (PRWEB) June 10, 2015
SIGNiX, the industry's leading independent e-signature service provider, announced today that their senior vice president of product management, John Harris, will be part of an enlightening presentation at the Drug Information Association's DIA 2015 conference in Washington D.C. on Wednesday, June 17.
Harris will be speaking alongside the director of application services at a leading clinical research organization (CRO), to detail the company's success using SIGNiX's patented independent e-signature technology. The solution reduced the time required to sign clinical trial documents by up to 94 percent and is expected to save $250,000 in paper-related costs alone during the institute's first year of using independent e-signatures.
By discussing the challenges the CRO faced dealing with burdensome paper processes –including personnel-draining workflows, costly delivery charges, regulatory compliance and the handling of binders upon binders of paper – Harris will explain how CROs can save time and money by going paperless.
The program will also highlight how SIGNiX was able to provide high-level security measures to protect documents and data and meet 21 CFR Part 11 regulations with SIGNiX's PharmaDoX e-signature solution, which brings easy, independent, digital certificate signing to life sciences.
"Technology adoption in the life sciences industry is completely dependent on meeting strict security and compliance standards," said Harris. "This in-person, case-specific dialogue will provide a unique opportunity for attendees to understand how a world-leader in scientific research can effectively use secure, compliant e-signature technology to save time and money."
Session Details:

Session Title: "SIGNiX Worldwide Innovation Theater: Formula One Study Start-Up: How to Get a 94 Percent Reduction in Time by Going Paperless"
Session Number: 375
Date: Wednesday, June 17
Time: 3:00 – 3:30 p.m.
Room Number: Exhibit Hall
Track: Innovation Theater
SIGNiX will also welcome attendees at its conference booth #2739, where Harris will be available for additional discussion prior to and following the session.
About SIGNiX:
SIGNiX, the most trusted name in independent e-signatures, makes signing documents online safe and secure with comprehensive legal evidence permanently embedded in each document to eliminate any dependence upon SIGNiX. The company's cloud-based service uses patented technology to give businesses and organizations the most secure and legally defensible e-signatures available at a fraction of the cost of wet ink signatures. SIGNiX's products help the world's leading companies become more efficient, decrease risk and boost profits. For more information, visit http://www.signix.com.
About DIA 2015:
The DIA 2015 51st Annual Meeting is the largest global multidisciplinary event for the professionals involved in the discovery, development, and life cycle management of pharmaceuticals, biotechnology, medical devices and related products. The DIA 2015 51st Annual Meeting will be held in Washington, D.C. from June 14 to 18.