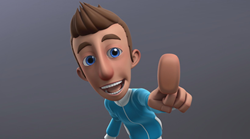 (PRWEB) June 05, 2015
"TAM" was featured on NewsWatch as part of its monthly AppWatch, which takes a look at the latest and coolest applications on the market for iOS, Android, and Windows. Joe Toohey, the host of AppWatch and technology expert, conducted the app review and shared with viewers how this iOS application is great for creating amazing 3D animations.
3D animation is incredibly popular. But for a long time it wasn't accessible to those who didn't have the technical know-how to figure out the software programs necessary to create it from scratch, or the money to pay someone who did. And if they were familiar with the software it was incredibly time-consuming to create the models that needed to be animated. The Animator's Modeler (TAM) is a fantastic iOS app that now allows people to create 3D characters using a simple touch interface.
Users start with a base model which can be pushed and pulled to create different features like a slim figure, overweight figure, big nose, large ears, and so on. Then the user has access to clothing items and accessories, allowing them to create anything from a skateboarder to a mega-villain from outerspace. Users can even create their own avatar that looks just like them. The options and combination of options are endless, allowing users free-reign to create any 3D character they can imagine. Of course people can share their creations on Facebook, Twitter or Instagram. TAM is available to download on an iPad for a mere $24.99 by searching "The Animator's Modeler" in the app-store.
To learn more, visit http://www.theanimatorsmodeler.com/
About NewsWatch
NewsWatch is a weekly 30-minute consumer oriented television show that airs on the Discovery Channel and ION Network. NewsWatch regularly features top technology products and services, mobile applications for iOS, Android, and Windows devices, unique and beautiful travel destinations around the world, health and medical tips, and entertainment interviews on the show. NewsWatch airs on the Discovery Channel at 7:00 – 7:30 AM ET/PT.
NewsWatch is located in the greater Washington, DC area and has been on air for over 25 years. For more information or to watch the most recent episode, visit http://newswatchtv.com/appwatch.html.