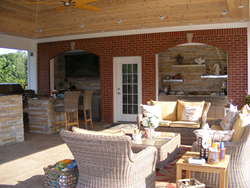 Wallingford, CT (PRWEB) June 08, 2015
The Danver Stainless Outdoor Kitchens team works closely with its design partners to ensure each installation is a success. As an example, the company wanted to share a recent project completed by Julie Westerfield, senior designer and showroom coordinator with McDaniels Kitchen and Bath, a full-service kitchen and bath dealer with a licensed general contractor installation department.
While this outdoor kitchen was designed by Julie, it was constructed by Rozen Construction, a general contracting firm owned by Dennis Rozen located in Dewitt, Mich. According to Julie, her clients desired a full-service bar, kitchen and entertaining space to meet the needs of their preferred lifestyle. The area required a full set of appliances, including a built-in grill and side burners, refrigerator and kegerator. In addition, the homeowners wanted plenty of serving and counter prep space to accommodate for large gatherings.
"Dennis Rozen insisted the homeowners leverage my design experience in their exterior living space," Westerfield explained. "It was clear the homeowner's aspirations exceeded traditional stone enclosures; instead they longed for a fully-enhanced, opulent outdoor kitchen."
The kitchen features Danver Stainless Outdoor Kitchens' highly durable and stylish cabinetry to complement the sand-colored granite countertops. In addition, the homeowners wanted shelves to display artifacts they discovered from their many scuba diving trips. To complement the kitchen's cabinetry, Westerfield and her team installed our stainless steel floating shelves.
"Designing a way to weather-proof and lock the room's artful display and television posed somewhat of a challenge for us," said Westerfield. "We ended up coordinating with an overhead door supplier to help install a pull-down steel door, much like the ones utilized for garage doors."
As a result, the outdoor kitchen balances the area's plush, wicker seating vignette. For these Michigan homeowners, their outdoor space isn't just a backyard…now it's their outdoor paradise.
For more information about McDaniels Kitchen and Bath, visit http://www.gomcdaniels.com.