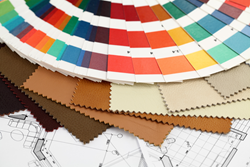 Interior Decorating is far more intricate and detailed and while can include all of the clients a Home Stager might work with, focuses on family function, needs and client aesthetic
(PRWEB) June 06, 2015
The Academy of Home Staging and Design is proud to announce it's latest innovation in Interior Decorating training. According to Kim Kapellusch, owner and creator of several design certification courses including home staging, the program is designed as a perfect marriage of business and design fundamentals in a tactile learning setting and takes less than a week to complete the certification.
The course takes students of all levels through 5 consecutive classroom days of progressive experiential learning with hands-on projects and exercises, multiple guest speakers and intensive business acumen to complete the Interior Decorator Certification. Students will learn all aspects of running and starting an Interior Decorator business immediately upon completion. Says Kim Kapellusch of the 5-Day Decorating Certification program, "With average design training typically taking 2-4 years of college, streamlining the massive amount of content needed to be covered was a feat of absolute proportions. We are so proud of what we have developed and to be able to provide so many people who are interested in design, personally or as a career, the option to pursue that dream in a fraction of the time and cost of traditional training."
This fast track program will feature design training that teaches students about materials, design principles, architecture and history, window treatments, lighting design and much more. The program not only teaches student about today's design trends and requires several class projects, but it also touches on important aspects such as business acumen and how to communicate with future clients and land multiple jobs in the design industry. Every student that completes this course will become certified and graduate the program with all the business documents needed to launch a design business.
The 5 Day Interior Decorator Course will begin on October 5th- 9th 2015 at the LA Mart in Los Angeles, Ca. LA Mart is located at 1933 S Broadway, Los Angeles, CA 90007. Any student who signs up before July 1st will save $500. Seating is limited.
For More information about The Academy of Home Staging please click here. To register for The Interior Decorator Course please call 800-574-5576