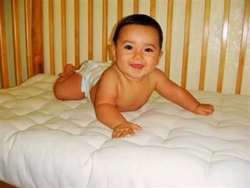 The goal, says Marlon Pando, President and owner of White Lotus Home, is to "educate families about the benefits and myths of living a healthy, green lifestyle."
Highland Park, NJ (PRWEB) June 07, 2015
White Lotus Home, a US company founded on the first Earth Day in 1981, honors the spirit of Saving the Earth by partnering with green living experts from around the country to bring helpful tips on making sure homes --- particularly bedrooms --- are non-toxic. The goal, says Marlon Pando, President and owner of White Lotus Home, is to "educate families about the benefits and myths of living a healthy, green lifestyle." Pando has been collaborating on these kinds of projects with consumer advocate Debra Lynn Dadd, who was called the "Queen of Green" by the New York Times. Dadd has been a believer in living and sleeping in an eco-friendly, non-toxic manner for over 30 years. She is just one of the several experts that are part of this non-toxic bedroom movement and collective effort.
As more research is being done on the hazards of living with chemicals and toxins in our homes, White Lotus Home is committed to staying on top of the news. Formaldehyde, for example, is conventionally used in processing sheets to impart a "permanent press", as well as in many polyester/cotton blends. The Department of Health and Human Services Report on Carcinogens has recognized formaldehyde as a possible carcinogen since 1981, categorizing it as a known carcinogen since its twelfth report was published in 2011. White Lotus Home regularly shares information on creating a non-toxic bedroom in their online newsletter and a lecture series with the experts is being discussed. More information can be found at WhiteLotusHome.com or at the complete RoC report.
With allergies and health concerns on the rise, switching to an organic lifestyle is becoming more commonplace and a welcome addition to the home, largely the bedroom. If people have trouble sleeping at night, Debra Lynn Dadd suggests investing in formaldehyde-free sheets because "formaldehyde causes insomnia." Switching to more natural and organic bedding, she states, will not only improve the quality of a person's sleep, but also help overall health by promoting a natural detox while sleeping.
Now that summer has arrived, White Lotus Home is putting a special focus on bringing green bedding to babies. In order to introduce natural mattresses to more families, owner Marlon Pando will be giving away two Organic Cotton and Wool Dreamton Crib Mattress ($978 value) or an Organic Cotton and Wool Toddler Mattress ($705 value), as well as four $100 White Lotus Home shopping credits.
"Children are our future and we owe it to them to keep our planet as natural and as organic as possible," says Pando. "With the increased awareness of chemicals in our homes, a White Lotus Home mattress could only encourage a healthier life for our kids and family. In almost 35 years of being a company that hand-makes organic bedding in the USA, we have thousands of proud parents sharing their stories with us about the way our bedding has helped them and their children sleep healthier, greener and more organic."
Crib safety has been big news recently – most famously with New York City Mayor De Blasio's announcement of the "Safe Sleep" campaign. The goal is to reduce sleep-related deaths by encouraging safe sleep techniques among parents and healthcare providers.
"Through educational resources and materials," states Council Member Laurie A. Cumbo, "We can ensure that parents and guardians are knowledgeable about the best sleep practices to protect the health and welfare of our city's newborns."
One of the pillars of the campaign is that infants should be placed to sleep on a very firm mattress using only a fitted sheet, as any other bedding presents a suffocation hazard. All White Lotus Home Organic or Natural crib mattresses are made extra firm to conform to CPSC standards and to reduce the risk of SIDS. From start to finish, a White Lotus Home crib mattress takes three days to complete. The process begins with 18-20 layers of cotton, a total of 26-30 inches in thickness, which is twice as much as a standard toddler mattress. These layers are compressed in a labor-intensive process for 3 days into a 3.5" thick, solid, firm mattress.
For families, sleeping on non-toxic bedding is important, too, especially for infants and children. Conventional crib mattresses are typically constructed from PVC and vinyl, materials that are created and softened using plasticizer chemicals called phthalates, which are known toxins. They have been linked to a number hormonal, respiratory and endocrine system problems. In 2009, Consumer Product Safety Improvement Act (CPSIA) banned phthalates from "all toys and child-care articles", yet failed to include mattresses. Green experts agree that organic bedding is one way to ensure a safe sleep and limit a child's phthalate exposure. Debra Lynn Dadd added in an interview, "Everything is on a gradient scale when buying a mattress. Most of what people will find on one end of the scale are harmful standard mattresses that people will find in the store, going up to the least toxic option, which is organic cotton. I think consumers should buy the best they could afford. It's better to buy non-organic cotton than to be sleeping on polyurethane foam and poly-cotton. I'm glad White Lotus Home gives options for affordability and gives people a green option in their price range. The best is organic cotton, but it's always a good thing to see people making a choice in the right direction."
White Lotus Home prides itself on creating mattresses and bedding by hand in their New Jersey showroom, using only natural materials such as US-grown natural and organic cotton, California wool, US-grown organic buckwheat, natural latex, and sustainable kapok --- never petroleum-based foams, formaldehyde, or vinyl and PVC with phthalates and other toxins. In her interview, Dadd added, "[White Lotus home] has been in business for a long time, and they really know what they're doing. I've personally been to the store in NJ and I've seen them making the mattresses. I know how clean the space is and I know how much care is put into the mattresses. I don't know if you've seen [the showroom], but it is an art. A handmade product by a company that really cares about their product and there's an art to it. The workmanship is really very excellent. White Lotus Home really cares about babies, people, and the earth."
To find out more about going non-toxic in your home visit WhiteLotusHome.com or call White Lotus Home at (732) 828.2111. Check back often for updates on the upcoming lecture series. Dadd's interview with Marlon Pando can also be heard on her podcast, Toxic Free Talk Radio. To sign up to win an Organic Cotton and Wool crib or toddler mattresses, you can enter on White Lotus Home's blog. We appreciate you taking the time to read our release. This code can be used: PR0615 for 25% off your next White Lotus Home purchase, valid through June 15th.