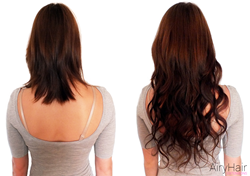 Many people will call us crazy for ditching wire transfers in favor of coins but we are ready to take the risk and plan to cross the $1 million revenue mark in Bitcoins within two years
New York, Brooklyn (PRWEB) June 11, 2015
AiryHair, one of the largest online suppliers of human hair extensions and accessories, has announced that it has replaced wire transfer payments with Bitcoin, Litecoin, and Dogecoin cryptocurrencies. By accepting these three new forms of digital currency, AiryHair is the first hair extension wholesaler to do so.
"Many people will call us crazy for ditching wire transfers in favor of coins but we are ready to take the risk and plan to cross the $1 million revenue mark in Bitcoins within two years," said AiryHair CEO Sam Fisher.
Considered cash for the digital age, Bitcoin, Litecoin, and Dogecoin have gained popularity for making Internet payments safe and hassle free for today's online shoppers. In contrast to credit card transactions, cryptocurrencies provide more security because there is no personal information attached to the digital transaction.
Fisher added, "With the mass appeal and huge cryptocurrency fans on the AiryHair team, it brings us great pleasure to enhance payment choices for our wholesale and retail customers. We have even hired a rapper and asked him to write a song about the cryptocurrencies; that's how much we love these coins."
In addition to embracing the cryptocurrency community, AiryHair has also reduced its express shipping costs. The company has streamlined operations between its storage and newly built distribution center in order to save time and money for the customer.
The free shipping option will now deliver hair extension orders one to two days faster than before. Customers using the paid shipping option will see a price decrease from 40 to 60 percent, as well as faster shipments.
"We have always been dedicated to shopper satisfaction, and are confident that a faster, more cost efficient experience is what our customers are looking for," said AiryHair sales manager, Robyn Starr.
For more information about AiryHair and its line of wholesale hair extension and hair care products, please log onto https://www.airyhair.com/wholesale-hair-extensions.htm
About AiryHair
Established in 2004, AiryHair is a premium provider of high quality human hair extensions and hair care products for everyday and special occasion use for professional salons and at home. With thousands of sets delivered every month, it became one of the biggest hair extensions and hair cate products suppliers in the world. For more information, visit https://www.airyhair.com