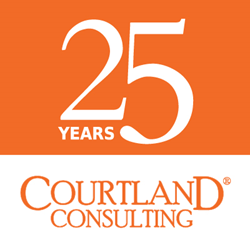 We currently have two large-scale projects in the works that will result in the expansion of our service area to 2 additional states and 150% staff growth
Lansing, MIchigan (PRWEB) June 10, 2015
East Lansing consulting firm, Courtland Consulting®, has made a name for itself as the leading system delivery vendor for child support projects in the United States which has led to the organization's explosive growth in the last year. What started as a staff augmentation provider on a single child support project in Michigan has grown into a diverse organization providing system implementation services in more than eight states, with 150% growth projected for remainder of 2015.
"We currently have two large-scale projects in the works that will result in the expansion of our service area to 2 additional states and 150% staff growth," said Steven Trudell, Courtland Consulting owner and president. "Our team just wrapped up statewide projects in Delaware and New Jersey, which resulted in doubling of staff at the time to accommodate the long-term projects as well as the diversification of our services."
Courtland's innovative approach to project delivery has resulted in strong B2B partnerships and the diversification of its services to include project evaluation, training and web design services serving hundreds of clients in public, private and nonprofit sectors.
"The broadening into these service areas has allowed Courtland to integrate its government contracting with the private and nonprofit sectors nationwide," said Trudell. "I am very excited and proud to have contributed to the success of so many agencies and businesses in the last 25 years."
Throughout its history, Courtland's reputation as the delivery vendor that focuses on the end users ultimately provided clients the necessary edge for a successful implementation and lead to national expansion.
"Even the most well-designed and-built computer system will fail without the proper training, support and preparation of the end users that will be utilizing the new system", said Trudell. "Our goal is to calm and even eliminate the fear of change, instead guiding those end users through the excitement and benefits of what the new technology can bring to their daily work experience."
The company plans to celebrate its 25th year anniversary with the communities and projects it serves through an interactive website at http://www.courtland25.com. Past and current clients, employees and partners are encouraged to interact with Courtland through this website and social media channels to share memories about Courtland and its many partner projects.
For more information about Courtland Consulting and their services, please visit: http://www.courtlandconsulting.com
About Courtland Consulting:
Courtland Consulting practices a collaborative, community-focused approach to providing the very best in consulting and technical services nationwide. Their customers and employees are their most valuable assets and they pride themselves in providing a team approach and professionalism with every project. Courtland's core service areas include: system implementation, web / graphic design, project evaluation, and training / eLearning.