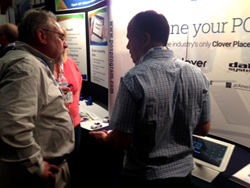 The Nilson Report ranking further sanctions our business mantra, innovation through every transaction
Calverton, New York (PRWEB) June 09, 2015
Electronic Payments, national leader in payment technologies and services, announced that it has been named to The Nilson Report's 2014 list of Top Merchant Acquirers in the U.S. for its third consecutive year. With a 17% increase in processing volume, Electronic Payments ranks 40th and maintains its position as one of the fastest growing credit card processing companies in the nation.
Since 2000, Electronic Payments has been a leading provider of payment processing solutions for businesses nationwide and has steadily grown its revenue base with innovative products and sales plans in the mobile and point of sale sectors of the market. The company now processes over $6 Billion in volume and maintains a sales force of over 800 agents nationwide.
"The Nilson Report ranking further sanctions our business mantra, innovation through every transaction," stated Michael Nardy, Founder and CEO of Electronic Payments. "By fostering a progressive approach to new technologies, we have implemented and followed-through with turnkey, versatile payment and point of sale solutions to businesses across the country."
As the industry continues to evolve, Electronic Payments remains on the front lines in both product development and support. Recognizing the growing demand for more flexible processing solutions, the company invested in the research, development and support of the industry's first and only Clover™ Placement Program as well as advancing ProCharge®, a comprehensive payment platform featuring Mobile, Gateway and Plugin components. This combination of products streamlines the payments process and generates significant benefits and immediate, long-term value for merchants nationwide.
The Nilson represents 94 top merchant acquirers in the United States, including Bank of America, First Data, Chase Commerce Solutions and numerous other reputed companies. Top U.S. acquires in 2014 are ranked according to purchase volume on credit, debit and prepaid payment cards. Visit http://www.nilsonreport.com for additional information.
###
Contact:
Electronic Payments
Amber Josi
Director of Marketing
amber(at)electronicpayments(dot)com
(800) 966-5520, ext. 286
About The Nilson Report
The Nilson Report is a highly respected source of global news and analysis covering the credit, debit and prepaid card industries. The in-depth newsletter provides in-depth rankings and statistics on the current status of the industry, as well as company, product and personnel updates. Over 18,000 readers in 90 countries worldwide value The Nilson Report to track industry trends and market information. http://www.nilsonreport.com
About Electronic Payments
With "Innovation through every transaction™", Electronic Payments has distinguished itself as one of the fastest growing and highly regarded privately held payment and transaction processing companies in the United States. Electronic Payments currently serves businesses in all industry types and acquires new clients through a network of agent banks, sales agents and independent sales offices (ISOs). Visit http://www.electronicpayments.com for additional information or http://www.bankcardprogram.com to learn more about the company's ISO and MLS programs.