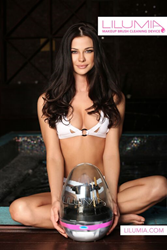 Los Angeles, CA (PRWEB) June 10, 2015
The patent-pending Lilumia is an automatic makeup brush-cleaning device that is the first of its kind to hit the market. The time-saving unit can clean up to six brushes at once in just 15 minutes with the press of a button and is research-proven to be more effective at removing bacteria than hand washing. The Liluma actively improves the hygiene of the user's skin by utilizing a one-of-a-kind rotating rubber brush agitator in conjunction with Lilumia's own Makeup Brush Cleansing Soap to remove bacteria and oils, preventing future breakouts and blemishes. Brushes that are sanitized with the Liluma create the most precise and even application of makeup by removing all previous product build-up for a truly flawless look.
Washing brushes with the Lilumia maintains the integrity of the bristles longer and is less damaging than the archaic method of washing them manually. The Lilumia requires brushes to be replaced less frequently to operate than hand washing, so users actually save money. The Lilumia is a smart and affordable one-time investment for the everyday makeup wearer as well as cosmetic professionals.
As a former model, Dallas-based CEO of Lilumia, Fierra Cruz, needed a more time-efficient way to thoroughly clean her own makeup brushes at home. Determined to invent a better method that encouraged proper care of these essential tools, she spent three years researching and developing a product that is accessible to both professionals and consumers of the beauty industry. Her unique solution is the Lilumia.
The Lilumia retails for $149 exclusively through Lilumia and is available in three stylish colors: Paris (Chrome/Pink), Dubai (Gold/White), Moscow (Chrome/White). The Lilumia should be used with the Lilumia Makeup Brush Cleansing Soap for best results.
###
About Lilumia –As a new company, Lilumia meets a niche demand in the beauty sector by focusing on a single truly cutting-edge product. Lilumia balances aesthetic design and research-backed technology to deliver a user-friendly investment for any makeup wearer.
For more information contact Dorothy Mannfolk @mannfolkpr.com, or Ashlee Scoltock at ashlee(AT)mannfolkpr.com.