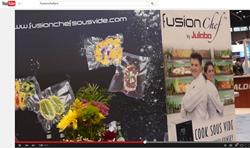 I can just drop it into the bath and always have consistent, beautifully tasting food - Chef Vikki Krinsky
Allentown, PA (PRWEB) June 09, 2015
The 2015 National Restaurant Association show just wrapped up in Chicago, and while there were many things to see, the spotlight was on the fusionchef by JULABO™ booth. This year fusionchef featured Certified Master Chef Richard Rosendale and Celebrity Chef Vikki Krinsky who served delicious sous vide samples as well as educated onlookers about the benefits of sous vide cooking.
Chef Rosendale explained that he believes the biggest advantage to cooking sous vide is the economical impact that it has on kitchens. "With using the circulators, fusionchef specifically, you're cooking at a lower temperature, so at the end of the cook time not only are you going to have a more flavorful product, but you're also going to get anywhere from 15-20% more yield in the end product," said Rosendale. "It works even particularly well when using items that are secondary cuts of meat like short ribs, pork belly, lamb shoulder - not only are you going to get tremendous flavor but incredible yields."
Chef Krinsky went on to add that she has worked with many different celebrities. "Working as a private chef is very unpredictable," said Krinsky. "Their schedules are kind of all over the place and I'm constantly having to transport food or make more food for more guests, unannounced, and by cooking with the (fusionchef Diamond) sous vide machine I have everything already prepared, ready to go, and I can just drop it into the bath and always have consistent, beautifully tasting food."
Check out fusionchef by JULABO™'s video here: https://www.youtube.com/watch?v=lXKxKn5CKic