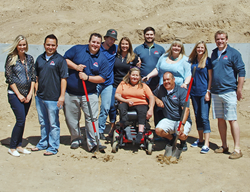 "Without Crest this wouldn't be happening. It's your support that's helping us move forward my dream as well as my son's." -Tina Evans
OREM, UTAH (PRWEB) June 09, 2015
Crest Financial joined together with Habitat for Humanity Utah County in late May to break ground for Crest's latest community service project as part of the Crest Cares Campaign.
In addition to a $10,000 donation, Crest Financial will also be providing nearly 800 volunteer hours from its large workforce to complete a house for Tina Evans, a single mother and her sixteen-year-old son, Jacob.
Paraplegic and wheelchair bound, Tina works hard to support her family while maintaining a surprisingly positive outlook on life.
Crest Financial's mission statement focuses on helping families, not only through their unique financing options, but also through corporate and social responsibility.
"The Evans moved to Utah to find a better life, but unfortunately they don't have any family here to help. We love that we can fill that void and be their family to help them obtain their dream," said Bob Millerberg, CEO of Crest Financial.
The house will include accessibility modifications, and will run on solar energy and have a low-maintenance yard and small garden.
Never having lived in a fully accessible home before, Evans is looking forward to providing a better life for her son than she had herself as a child and young adult.
"Without Crest this wouldn't be happening. It's your support that's helping us move forward my dream as well as my son's," said Tina.
The home is estimated for completion in December of 2015.
Crest Financial, with its corporate office located in Utah, is an innovative provider of financing solutions for retailers nationwide. Crest Financial is an industry leader in "No Credit Score Needed" financing. Since opening in 2005, Crest has helped finance thousands of satisfied customers. For more information, call 855-28CREST or visit http://www.CrestFinancial.com.
Since 1991, Habitat for Humanity Utah County has been providing affordable housing to
local families in need. Through volunteer labor, professional expertise and tax-deductible
donations, the organization obtains land and builds simple decent homes in Utah County.
For more information, visit http://www.habitatuc.org or call 801-344-8527.