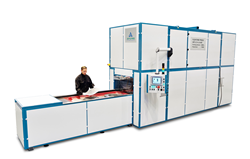 Avure's sheet metal forming presses reduce fabrication steps and decrease component costs.
Vasteras, Sweden (PRWEB) June 09, 2015
AgustaWestland, a leader in vertical flight innovation, will install a Flexform™ fluid cell press from Avure Technologies at PZL-Świdnik, its helicopter factory in Świdnik, Poland. The Avure model QFC 0.7x1.8-800 press, featuring a forming area of 0.7x1.8 meters (27.5x72 inches), will provide a production capacity of several hundred thousand sheet metal parts per year.
Internationally known for its technology research and engineering expertise, the Anglo-Italian helicopter manufacturer AgustaWestland is taking a leading role investigating future concepts of vertical flight. PZL-Świdnik, AgustaWestland's third industrial pillar in Europe and Poland's only original helicopter manufacturer, is heavily involved in developing AgustaWestland's new projects like the AW149 multi-role military helicopter and the SW-4 Rotary Unmanned Aerial System/Optionally Piloted Helicopter (RUAS/OPH), which leverages on the Świdnik-produced light single engine SW-4 helicopter. Apart from the latter, the Świdnik site produces also the W-3 Sokol helicopters.
PZL-Świdnik's new press, the latest model in the Avure fluid cell family, generates a forming pressure of 17,000 tons, making it possible to produce finished sheet metal parts with less labor hours and by reduced forming pressings. With two tandem forming tables that can accommodate several parts per cycle, the press will boost productivity and capacity for Poland's largest helicopter manufacturer.
It is expected that PZL-Świdnik's capacity in the high-pressure forming of metal sheets will be expanded by 30%. Initial tests indicated also a substantial potential to reduce labor hours and fabrication steps. The increased quality and capacity will allow the Świdnik plant to meet growing demand in the aviation industry.
"Avure's sheet metal forming presses reduce fabrication steps and decrease component costs," states Anders Ringdahl, Regional Sales Director of Avure Technologies in the EMEA region. "The high forming pressure will allow PZL-Świdnik to achieve tighter parts tolerances and lower per-part production costs."
The delivery of the QFC 0.7x1.8-800 press, which generates a pressure of 800 bar (11,600 psi) over the forming area, represents the 10th installation of this latest addition to Avure's Flexform fluid cell press family. First deployed in 2013, the 10 new model presses are now operating in seven countries in four continents around the globe.
See Avure at FABTECH 2015, Booth S4789, Chicago, IL USA November 9 – 12, 2015
About AgustaWestland
With nearly 65 years of experience and having produced over 7,400 helicopters, PZL-Świdnik is the only Polish OEM with the capabilities to undertake helicopter design, research & development, system integration, manufacturing, support, training, and upgrades. The company's range of rotorcraft can perform the complete spectrum of commercial and government roles. PZL-Świdnik is also a major indusrial partner in the aerospace industry, supplying aerostructures to many of the world's leading manufacturers. PZL-Świdnik has been an AgustaWestland company since 2010.
Read more about AgustaWestland: http://www.agustawestland.com
About Avure Technologies
An innovator with a strong record of accomplishment, Avure Technologies (formerly known as ASEA, ABB, and Flow), demonstrates its expertise in high pressure by occupying leadership positions in industrial and food applications. The company is the largest global provider of ultra-high pressure systems utilized to form sheet metal, to process advanced materials, and to pasteurize foods without heat or chemicals.
Avure has installed over 1,700 high-pressure systems worldwide, more than all other competitors combined. These systems are characterized by technically sound design, superior reliability, energy efficiency, low maintenance costs, and many years of experience. Many Avure presses have been in service for more than 40 years, and some have surpassed 1 million high-pressure processing cycles.
Avure Technologies headquarters in Västerås, Sweden, house equipment design, manufacturing, and support operations, along with an Application Center offering metal forming support and training courses. Additional facilities, under the name Quintus Technologies LLC, are located in Columbus, Ohio, USA, with regional sales and support offices around the globe.
Read more about Avure Technologies at: http://industry.avure.com.