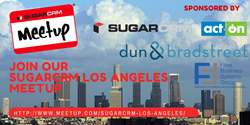 Woodland Hills, CA (PRWEB) June 09, 2015
The CRM Los Angeles User Group is a Greater Los Angeles Area meetup, for SugarCRM software users, administrators, developers, implementers, sales and marketing professionals, and others interested in joining a like-minded CRM community. Hosted by Faye Business Systems Group, the group includes quarterly webinars, educational meetings and networking events. This User Group aims to exchange ideas and listen to presentations by local and international industry experts. Topics focus on the evangelism around Sugar Marketing Automation, Accounting and ERP Software, and much more. Discussions also focus on the latest industry news and exciting technology trends.
Find out more at http://www.meetup.com/CRM-Los-Angeles/ and sign up for the inaugural July 16th event in Woodland Hills on Best Practices for CRM User Adoption.
About the Sponsors
Faye Business Systems Group
Faye Business Systems Group is an award winning Software Company specializing in integrating SugarCRM with software based business solutions. FayeBSG has over 25 years of experience helping growing companies become more profitable through the effective use of technology. As an industry leader, FayeBSG uses SugarCRM, Act-On, NetSuite, Sage 100 ERP (formerly MAS 90), Box, Atlassian, and a variety of custom software solutions to meet client needs, with services including software development, project management, integrations, data migration, consulting, training, and support. As one of SugarCRM's leading Global Elite Partners, an Act-On Platinum Partner, and a Sage and NetSuite Partner, FayeBSG has developed Sugar Integrations for: NetSuite, Sage 100 ERP, QuickBooks, Constant Contact, Authorize.Net, Jira, ShoreTel, Box and Dropbox. Learn more at http://www.fayebsg.com
SugarCRM
SugarCRM enables businesses to create extraordinary customer relationships with the most innovative and affordable customer relationship management (CRM) solution on the market. By placing the individual at the center of its solution, SugarCRM is putting the "i" in CRM and empowering people at all levels of an organization to better understand and engage with customers. Based in Silicon Valley, SugarCRM is backed by Goldman Sachs, Draper Fisher Jurvetson, NEA and Walden International. More than 1.5M individuals in over 120 countries rely on SugarCRM. To learn more visit http://www.SugarCRM.com or follow @SugarCRM.
Act-On Software
Act-On Software provides the leading sales and marketing engagement platform for the 21st century business. Simple to operate but powerful in its results, elegant in its user experience and comprehensive in its functionality, Act-On's cloud solution powers over 3,000 companies in their engagement efforts across all stages of the customer lifecycle -- attract, capture, nurture, convert, and expand. The platform's out-of-the-box integrations with popular standalone tools are further complemented by Act-On Anywhere™, a business productivity application that extends the use of marketing automation across web-based environments. Act-On supports an open marketing ecosystem that enables businesses to take full advantage of the latest tools and services available, in the context of an integrated engagement and targeting platform. Act-On also offers a best-in-class professional services team, dedicated customer support, and the APEX ecosystem of partners to provide clients with the resources they need to achieve sales and marketing success. Headquartered in Beaverton, OR with eight additional offices across three continents, Act-On has been recognized for its superior product and rapid business growth by Deloitte, Forbes, and Inc. Magazine. For more information, visit http://www.act-on.com.
Dun & Bradstreet® (D&B)
The Dun & Bradstreet Corporation is the world's leading source of commercial data, analytics and insight on businesses, or "content." Our global commercial database contains more than 230 million business records. We transform commercial data into valuable insight, which is the foundation of our global solutions that customers rely on to make critical business decisions.
D&B provides solution sets that meet a diverse set of customer needs globally. Customers use D&B Risk Management Solutions™ to mitigate credit and supplier risk, increase cash flow and drive increased profitability, and D&B Sales & Marketing Solutions™ to provide data management capabilities that provide effective and cost efficient marketing solutions to increase revenue from new and existing customers. For more information, please visit http://www.dnb.com or follow @DnBUS.