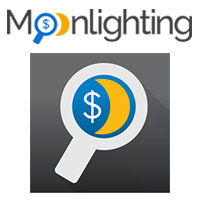 NRV is excited to support Moonlighting in their mission to democratize the sharing economy. Tennery and his team have the big company experience and the early stage nimbleness to rapidly scale, said Ted Chandler, Co-Founder NRV.
Charlottesville, VA (PRWEB) June 11, 2015
Moonlighting, the first nationwide mobile marketplace where anyone can hire or be hired in any community in the country, announced today the closing of $1.9M in funding. The financing round was led by The McClatchy Company (NYSE:MNI), a global news and information leader, and joined by New Richmond Ventures (NRV), bringing the company's total financing to $1.9 million, to date. The new financing will help support Moonlighting's product expansion, market development and continued nationwide growth to more than 2,000 communities.
"In order for the 1099 worker to succeed in today's on-demand economy, they need alternative tools like Moonlighting to generate income," said Moonlighting CEO and co-founder Jeff Tennery. "Having McClatchy, New Richmond Ventures and experienced industry leaders join the Moonlighting Revolution further validates our mission to create jobs for the masses."
The McClatchy Company will integrate Moonlighting into its broad print and digital properties located in 28 U.S. markets and 14 states. New Richmond Ventures will provide its formalized network of Strategic Partners and Executive Advisors to assist Moonlighting as the company scales.
Christian A. Hendricks, Vice President, Interactive Media at McClatchy, was recently appointed to Moonlighting's Board of Directors. Hendricks brings extensive digital operations, innovation, and strategic skills to Moonlighting and will help accelerate the company's growth. Ted Chandler, Jr., Co-Founder and Principal at NRV, will also join Moonlighting's board. Chandler, who has more than 30 years of experience serving on the boards of companies, began his career as an attorney specializing in mergers and acquisitions and securities law.
"NRV is excited to support Moonlighting, one of Central Virginia's most promising early stage companies, in their mission to democratize the sharing economy. Tennery and his team have the big company experience and the early stage nimbleness to rapidly scale and serve a huge market with an innovative two-way interactive solution. We look forward to our strategic partnership," said Ted Chandler, Co-founder and Principal of New Richmond Ventures (NRV).
Also joining McClatchy and New Richmond Ventures are the Baltimore Angels and Millennial Media Founder, Paul Palmieri. These round out an impressive group of investors who believe that Moonlighting will be the preeminent marketplace for micro-jobs worldwide.
In only eight months since its inception, Moonlighting has created the first digital job exchange where anyone can easily participate in the sharing economy. Moonlighting has transformed the way people create jobs, hire and pay for services and is now used by service providers and consumers in all 50 states in more than 1,300 communities. Their mobile platform allows anyone at anytime to create and fulfill task-basked jobs.
About Moonlighting
Moonlighting is the first mobile, on-demand application that empowers people to earn extra money and get tasks done instantly. Moonlighting creates a virtual marketplace for individuals and small businesses, enabling more effective and efficient communication between those needing a task done and those capable of fulfilling the need. Through the Moonlighting platform, users eliminate anonymity by posting jobs and sharing them within their trusted social networks (e.g. Facebook, Twitter, LinkedIn) or with friends in their contact book. Moonlighting's mobile technology allows users to also make more intelligent and better-informed hiring decisions in real time. Using Moonlighting's proprietary mobile payment platform, users can complete hiring transactions in a secure and safe manner. Moonlighting was built from the ground up for the mobile economy. Moonlighting is a privately-held company based in Charlottesville, VA. For more information about Moonlighting, please visit http://www.moonlightingapp.com.
Press Contact:
Catherine Jolly
Director of Public Relations
(434) 242-1244
cathy(at)moonlightingapp(dot)com
Moonlighting Contact:
Jeff Tennery
Founder & CEO
(434) 760-0921
jeff(at)moonlightingapp(dot)com