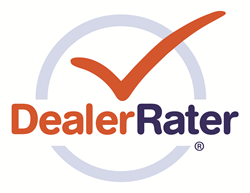 "If your car is affected, you can find the best-rated place to have it fixed in your area and even schedule a service appointment directly on DealerRater."
WALTHAM, Mass. (PRWEB) June 10, 2015
DealerRater, the car dealer review website for consumers, has announced a solution to address the National Highway Traffic Safety Administration's (NHTSA) recent plans to hold automakers accountable for increasing recall completion rates.
"NHTSA is starting to crack down on manufacturers for delaying recalls, and is aiming for 100 percent recall completion rates," said DealerRater CEO Gary Tucker. "As demonstrated in the Takata airbag recall, the government is pushing for safer roads and consumers that are well informed can avoid safety issues."
DealerRater, which provides a platform for consumers to share their dealership experiences, offers visitors to its site an easy way to learn about recalls and quickly find a dealership at which to have their manufacturing issues resolved.
"Recall alerts give us the ability to notify auto owners about potential safety concerns with their vehicle," adds Tucker. "If your car is affected, you can find the best-rated place to have it fixed in your area and even schedule a service appointment directly on DealerRater."
To check current recalls or sign up for alerts, visit http://www.DealerRater.com/recalls.
About DealerRater
DealerRater was founded in 2002 as the first car dealer review website worldwide. DealerRater is the world's No. 1 online resource for anyone seeking trusted, third-party information on automobile dealerships. DealerRater features nearly 41,000 U.S. and Canadian car dealers, nearly 2 million consumer reviews and a million-plus cars listed for sale. More than 14 million consumers read DealerRater review content across the Web each month. Consumers visit the DealerRater site to search for car dealerships, read reviews, write their own descriptive reviews and find car deals – all for free.
DealerRater offers qualified car dealers a Certified Dealer Program as a reputation-building management tool to help them grow their online presence and achieve higher SEO rankings across the Web. Its national network of more than 5,400 dealers are members of the award-winning DealerRater Certified Dealer Program. DealerRater is proud to have earned the No. 137 position on the 2012 Inc. 500 list, an exclusive ranking of the fastest-growing private companies in the United States. DealerRater is well poised to continue its global expansion, accelerate product innovation and evaluate strategic acquisition opportunities with a recent equity investment from Great Hill Partners, a Boston-based private equity firm focused on growth companies. DealerRater was also recently awarded a Technology Leadership Award from Dealer Marketing Magazine and its third consecutive "Top Rated" Reputation Management award in the fifth annual DrivingSales Dealer Satisfaction Awards. For more information, visit http://www.DealerRater.com or call 800-266-9455.
# # #
Press Contact:
Eric Pylvanainen
PCG: Los Angeles
epylvanainen(at)pacificcommunicationsgroup(dot)com
424-903-3685
Wendi McAden
PCG: Philadelphia
wmcaden(at)pacificcommunicationsgroup(dot)com
424-903-3644