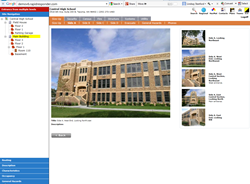 Our favorite aspect of Rapid Responder is that all of our emergency response information is all in one place that first responders and administration have access to the most up-to-date information
Shakoppe, MN (PRWEB) June 09, 2015
SouthWest Metro Educational Cooperative (SW Metro) has recently implemented Prepared Response, Inc.'s cutting edge crisis preparedness and emergency management system. Rapid Responder® is the latest in digital technology; featuring affordability, the robust yet standardized system is helping SW Metro to better prepare and plan for emergencies and crisis situations by connecting school administrators and first responders.
When asked why Rapid Responder was chosen to be brought on, Darren Kermes, Executive Director for SW Metro explained that administrators, "Wanted a more standardized approach to safety that utilized technology instead of the traditional binder system. We wanted simultaneous access with first responders and school officials."
Prior to the Rapid Responder implementation, SW Metro had security procedures in place, but nothing formalized. There was a school resource officer assigned to their largest building, but if an issue occurred at one of their smaller sites, the school utilized local law enforcement as the need arose. Although SW Metro had a positive working relationship with local law enforcement, the relationship with other first responders was not as good. With the implementation of Rapid Responder, SW Metro has been able to solidify a better relationship with the fire department and fire marshal through the preplan tactical meeting which brings administrators and all local first responders together to plan for a variety of different scenarios.
"The biggest thing is bringing the stakeholders together to give a coordinated response. Our favorite aspect of Rapid Responder is that all of our emergency response information is all in one place that first responders and administration have access to the most up-to-date information," says Cpl. Jeff Trick, SRO through Carver County Sheriff's Office. "The preplan tactical meeting brought everyone together in a round table session to work cohesively and effectively for the greater security of the school. We really began to learn how each first responders role fit together to achieve a common goal."
Since being fully implemented, SW Metro has used Rapid Responder to log state required drills such as lockdown, fire and inclement weather. In the near future, they plan on using Rapid Responder for reminder dates on when to recharge fire extinguishers and maintenance reminders for the facilities. Darren Kermes has long anticipated the day that crisis plans are updated consistently and in a timely manner and he says that because of Rapid Responder, they finally have the means to accomplish that.
Rapid Responder is an all-hazards site-based crisis management system which provides school administrators and first responder's instant access to site specific emergency response information. Site specific information includes floor plans, aerial views, site maps, hazardous material locations, utility shut off information, emergency and evacuation plans, and live camera feed. Currently deployed in over 16,000 facilities nationwide, Rapid Responder is SAFETY Act certified by the U.S. Department of Homeland Security, and has been successfully used during active shooter events, bomb threats, lock downs and other emergency situations.
MEDIA CONTACT
FOR FURTHER INFORMATION, PLEASE CONTACT:
Prepared Response, Inc.
Samantha Caron
scaron(at)preparedresponse(dot)com
253.363.8561
SouthWest Metro Educational Cooperative
Darren Kermes
dkermes(at)swmetro(dot)k12.mn(dot)us
952.567.8102
ABOUT PREPARED RESPONSE, INC.
Prepared Response Inc. is the leading innovator of emergency preparedness and crisis management solutions in the nation. For over a decade, Prepared Response has provided industry leading technology and consulting services that have been proven to save lives and mitigate property damage. The company's flagship product, Rapid Responder, is used by over 1,300 public safety agencies nationwide and is SAFETY Act Certified by the U.S. Department of Homeland Security as a Qualified Anti-Terrorism Technology, along with being endorsed by the National Sheriffs' Association. Rapid Responder is currently deployed in educational facilities, public buildings, critical infrastructure and private facilities across the U.S.
The privately held company is headquartered in Kirkland, Washington. Additional information can be found at http://www.preparedresponse.com or by calling 1-866-862-7741.