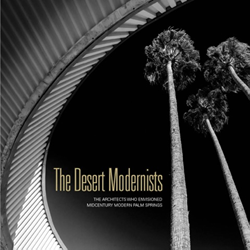 ...a tribute to an amazing group of midcentury modern architects who had a distinct vision for Palm Springs' future.
Palm Springs, California (PRWEB) June 11, 2015
Modernism Week announces that a new book created in celebration of its tenth anniversary, "The Desert Modernists – The Architects Who Envisioned Midcentury Modern Palm Springs," is available for purchase online and at select retail locations.
"The Desert Modernists" highlights the work of 12 notable Desert Modern architects and features stunning photography of their most influential projects. The definitive book about the masterminds who shaped Palm Springs' iconic midcentury modern design is the result of a unique collaboration between 13 esteemed authors, 17 architectural photographers, architecture and design community supporters, and Palm Springs Life magazine.
Included in the 143-page volume are chapters about each of the dozen architects written by published authorities on each of the subjects. The examination of each designer informs the overall picture of mid-twentieth century development in Palm Springs. Included in the book is internationally acclaimed architect Richard Neutra and the famed "Desert House" designed for Pittsburgh department store magnate Edgar Kaufmann, Jr. in 1946 as an ethereal construction of glass, steel, and stone. Also included is the highly experimental and prolific designer and architect Albert Frey, who was an apprentice of the Swiss architect and Modernism pioneer Le Corbusier. Frey's futuristic, metal-clad Aluminaire House (designed with A. Lawrence Kocher) was the toast of a 1931 New York exposition, and remains today as one of the earliest and best examples of pre-fabricated housing. Also studied is E. Stewart Williams, who joined the Palm Springs practice of his father and brother and went on to design Frank Sinatra's Twin Palms estate; as well Donald Wexler and the architectural brilliance behind his design of the Palm Springs International Airport's main terminal building; and Frank Lloyd Wright-inspired architect Hugh Kaptur, both of whom continue to reside in Palm Springs. The seven additional architects featured are Robson C. Chambers, John Porter Clark, William F. Cody, A. Quincy Jones, William "Bill" Krisel, John Lautner, and Paul R. Williams.
An additional distinction of "The Desert Modernists" book is the remarkable collection of photography displayed within its pages, including many vintage and contemporary photos from private archives and images never-before seen in public. The iconic photographer Julius Shulman figures prominently with photos provided by the courtesy of his family and the Getty archives. Palm Springs has long been recognized as one of the most spectacular and geographically unique locations for architectural photography. The 17 professional photographers featured have beautifully captured the dramatic and graceful starkness of modern architecture positioned amidst the arid and sparse desert landscape.
"This undertaking was a history-making collaboration and a labor of love. The result is a tribute to an amazing group of midcentury modern architects who had a distinct vision for Palm Springs' future," said J. Chris Mobley, Modernism Week Board Chairman. "Our non-profit mission includes educating and informing the public about the significance of the rich architectural heritage of Palm Springs. Proceeds from the sale of 'The Desert Modernists' will provide financial support for Modernism Week, its mission and year-round operations."
The retail price for "The Desert Modernists – The Architects Who Envisioned Midcentury Modern Palm Springs" is $50, and the book may be purchased at the following locations:
Destination PSP – 170 N. Palm Canyon Drive, Palm Springs and online at DestinationPSP.com
Just Fabulous – 515 N. Palm Canyon Drive, Palm Springs
Just Modern – 901 N. Palm Canyon Drive, Palm Springs
Palm Springs Art Museum Architecture and Design Center – 300 S. Palm Canyon Drive, Palm Springs
Sunnylands Center and Gardens – 37977 Bob Hope Drive, Rancho Mirage, CA
Fallingwater Museum Store – 1491 Mill Run Road, Mill Run, PA
"The architects who practiced in Palm Springs during the mid 20th century brought attention to how architecture and landscape can be in sync," observed Sidney Williams, the Palm Springs Art Museum's Curator of Architecture and Design. "Each architect adapted their architecture to the desert environment in unique ways and each chapter of 'The Desert Modernists' reveals insights into their work."
Modernism Week will host a Fall Preview over the Columbus Day holiday weekend October 9-12, 2015, and the 11th annual Modernism Week will take place February 11-21, 2016. For more information please visit modernismweek.com and follow them on Facebook, Instagram and Twitter.
About Modernism Week:
Modernism Week is a California 501 (c) (3) non-profit organization. Modernism Week is also a charitable organization, providing scholarships to local Palm Springs students pursuing college educations in the fields of architecture and design; as well as giving grants to local and state preservation organizations for their efforts to preserve modernist architecture throughout the state of California.
Modernism Week's Mission:
The mission of Modernism Week is to celebrate and foster appreciation of mid-century architecture and design, as well as contemporary thinking in these fields, by encouraging education, preservation and sustainable modern living as represented in Palm Springs.