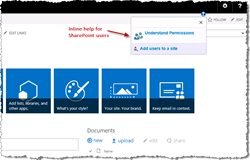 Plainfield, IL (PRWEB) June 10, 2015
VisualSP will host a no-cost webinar, "In-Context, On-Demand Help for SharePoint Online (Office 365) Users" on Thursday, June 11, 2015 at 2:00 pm Eastern. The goal of the webinar is to help SharePoint Online users to be successful by using a performance support tool that can help them when and where they need help. The webinar will be presented by Asif Rehmani, SharePoint Server MVP, MCT, author and SharePoint adoption evangelist.
During the Webinar, Rehmani will demonstrate the VisualSP App - which provides users with inline and in-context help and learning. This app helps the users by showing them why certain tasks are done and how to do them using video tutorials, tip sheets and screenshots, reference documents and articles and links to resources online.
Examples of Tasks the VisualSP App Supports:

Uploading documents
Working with the Recycle Bin
Managing items in lists
Understanding columns in lists and libraries
Much much more
This webinar will demonstrate the power of the VisualSP app and how one can acquire it for their SharePoint Online (Office 365) users.
Webinar Details:
Date: Thursday, June 11, 2015
Time: 2:00 - 3:00 pm Eastern
Click Here to Register for the Webinar.
About VisualSP
VisualSP (formerly SharePoint-Videos.com) focuses on empowering information workers, technical decision makers, administrators and developers in corporate environments with the SharePoint knowledge they need to be successful. The company is the creator of the VisualSP Help System, a platform that delivers in-context support to end users through a Help tab in SharePoint ribbon. VisualSP has been helping drive SharePoint adoption in organizations by exposing Help content such as: video tutorials, screenshots and reference documents to the users when they need it. In addition, hundreds of video tutorials are available on the company website, which empower all SharePoint users to build powerful solutions and use the SharePoint platform effectively. http://www.VisualSP.com
twitter: @sharepointvideo / @asifrehmani