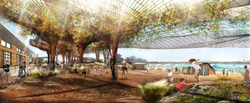 Austin, Texas (PRWEB) June 11, 2015
Today Levy Architects revealed their position as lead architect design firm and project manager for recently announced NLand Surf Park in Austin, Texas. NLand Surf Park is the first-of-its-kind outdoor surf park in North America. NLand Surf Park will be North America's premier surfing destination with one foot, four foot and six foot perfectly tubing waves every 60 seconds in a lagoon the size of nine football fields. As the lead architecture design firm and project manager, Levy Architects will work with a comprehensive group of many top-tier Austin based professional service companies including civil, mechanical, structural and water engineers along with landscape architects, general contractors and construction management. NLand Surf Park is slated to open in Austin, Texas in 2016 just minutes from Austin Bergstrom International Airport.
"Levy Architects was an easy decision for me," said Doug Coors, chief executive officer of NLand Surf Park. They are a top notch architecture firm, but what impressed me most is the fact that founder, Stephen (Levy), is a native Texan with a lifelong passion for the outdoors, a true outdoorsman with a deep respect and a keen understanding of the delicate balancing act between development and responsible land management."
NLand Surf Park will bring the ocean to Central Texas but sustain itself with only rainwater thanks to a state-of-the-art water catchment system. Surfers of all abilities from novices, to kids to pros will surf on perfectly tubing waves made from raindrops.
"This project gives us the opportunity to showcase what we do best," stated Stephen Levy, AIA Levy Architects. "Doug Coors, CEO of Nland Surf Park, challenged us to design a world-class surf park, the likes of which has not been done before in North America. Naturally, folks will be drawn to the amazing wave technology. But, we hope our design creates an experience and place that visitors consider a must-see Austin destination. People will be attracted to the sense of place that we can create through shade, project-specific unique building elements and careful relationships of buildings to the land, to each other and to people."
The design inspiration, according to lead architect, Riley Triggs, AIA, "is drawn from the sensation of surfing, which is a combination of adrenaline rush and serenity, that is paired with a sophisticated, contemporary interpretation of the spirit of Austin's 'weird' legacy of creative spaces. The shape, color, movement and froth of the wave are visual elements winding their way into the buildings and landscape."
LEVY Architects is responsible for all building design, and managing the project's design team. They are the lead in the collaborative effort with the landscape architect, dwg., on the design of the entire site. LEVY Architects will provide a continuity of design vision and management experience that will be essential to guiding the many design consultants towards a groundbreaking private enterprise.
The many partners include professional firms in the architecture, design and construction space: KGBE, dwg., Structures, Aptus, Cloward H20, Wavegarden, White Construction and RLB among others.
NLand Surf Park is slated to open in Austin Texas in 2016. For more information, visit http://www.nlandsurfpark.com. To learn more about Levy Architects, visit http://www.levyarchitects.com.
About LEVY Architects, PLLC
An Austin based full-service architecture firm with expertise in master planning, land planning, and sustainable design for Commercial, Corporate, Public, Multi-Family, Ranch, Residential, Hospitality and Industrial needs. Marrying the aesthetic with the pragmatic nature of all architectural projects, LEVY Architects, PLLC represents a new kind of design firm. The company, founded in 2003 by Stephen V. Levy, AIA, recognizes and rewards each architect's contributions regardless of seniority. This model has positioned the company as one of the fastest growing firms in Austin. See recent projects and more at http://www.levyarchitects.com.
***