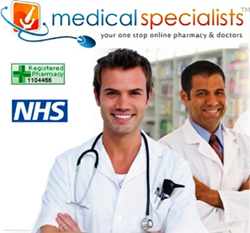 The topic of men's health can cover a large array of conditions and problems, each varying in severity, but all can cause distress and loss of self-esteem without the necessary treatment.
Bury, Lancashire (PRWEB UK) 11 June 2015
In less than one week's time will see Men's Health Week get underway, an annual event that takes place in the week leading up to Father's Day, meaning this year it will be taking place from 15-21 June. The Men's Health Forum – an independent charity that works tirelessly to improve men's health services and the overall health of men – are the pioneers behind National Men's Health Week across England and Wales.
Formed in 1994, the Men's Health Forum looks to target groups of men with the worst health and show these men they can make positive changes to boost their health. This may come in the form of a number of lifestyle changes such as stopping smoking, increasing exercise, cutting down on drinking, or having the knowledge of knowing where to turn for help with mental health problems.
As a strong advocate for the often underestimated issue of men's health, and coincidentally also first established in 1994, Medical Specialists® NHS Online Pharmacy are proud to support the yearly awareness week that focuses on healthy living for men, and hopes the nation gets fully behind it.
Statistics compiled by the Men's Health Forum in July 2014 paint a worrying picture about the state of male health in Britain. Suicide is the biggest cause of deaths in men under the age of 35, with almost four in five suicides (78%) carried out by men. Moreover, the same statistics from the Men's Health Forum state that 12.5% of men in the UK were diagnosed with a mental health disorder and that men are almost three times more likely to become dependent on alcohol compared to women (8.7% of men in comparison to 3.3% of women).
The topic of men's health can cover a large array of conditions and problems, each varying in severity, but all can cause distress and loss of self-esteem without the necessary treatment. Literally tens of thousands of men seek help with Medical Specialists® for many common different problems such as male pattern baldness, and for help in treating sexually transmitted infections like chlamydia or genital herpes.
However, by some distance, Medical Specialists® see a large proportion of their male patients coming to them regarding the different treatment options available for erectile dysfunction. According to NHS choices, approximately half of all men between the ages of 40 and 70 will have erectile dysfunction to a certain degree, with some of the typical causes for it being smoking, diet, obesity, high blood pressure, high cholesterol and alcohol abuse.
Erectile problems can cause a loss of confidence and self-esteem for the male, and even risk putting relationships in serious jeopardy, without appropriate treatment – usually in the form of popular phosphodiesterase type 5 (PDE5) inhibitors such as Viagra, Cialis, or Levitra. Men suffering with more long-term and persistent erectile problems should consult their own GP though, as the condition may be an early sign of more serious health problems, such as heart disease.
Each year, Men's Health Week has a different theme, with 2014's theme being work and health, including stress and unemployment. Due to the fact so many men were made unemployed during the recession and potential health implications from this, the Men's Health Forum realised this was a very important subject matter that had been previously overlooked.
Men's Health Week 2015 will focus on 'Healthy Living for Men', with the charity urging men all around the UK to consider their lifestyles and the campaign will be specifically challenging men to:

Look after their relationships and wellbeing.
Don't smoke.
Drink sensibly.
Be active.
Watch their weight.
Turn up to their NHS Health Check.
Men are less likely to lead a healthy lifestyle. They are more likely to smoke, drink alcohol to hazardous levels and be overweight or obese. These lifestyles can lead into serious diseases such as cancer, heart diseases and stokes, the risk of which can be reduced by leading a healthy lifestyle. Our Men's Health Manifesto challenges men and health providers on these issues.
Sign up for Men's Health Week 2015 news and information. If you already receive our newsletter this will update your subscription for extra info on Men's Health Week 2015.
Anybody is able to get involved with Men's Health Week, i.e. local organisations, public health teams, NHS and employers. Those that choose to sign up to the Men's Health Week 2015 news and information will receive plenty of help in how to get involved, as well as additional newsletters and updates during the course of the week and details of how to get resources as soon as they are available.
Medical Specialists® hope this article reaches as many men as possible around Britain and makes them consider the positive changes that can be made today – not in the future – to ensure a healthier lifestyle and wellbeing for the long-term.