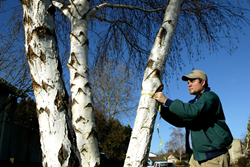 The fluctuations in weather last winter really affected how trees began their re-growth, so it is critical for homeowners to contact an arborist to make an assessment of the overall health of the trees on their property. Tony Fisher, General Manager
Kennewick, WA (PRWEB) June 11, 2015
The polar vortex that pushed into the United States last November left its mark beyond just the frigid cold experienced, as now with the weather warming, the possible damage caused to the landscape is coming to surface, specifically in the trees surrounding the homeowners' property. Senske Services is advising homeowners to pay special attention to the trees located on their property, especially those in areas that were harder hit with the flash freeze.
The extreme change in weather last year directly affected how trees prepare for the cold winter months. Naturally, as the weather begins to cool, the trees start to prepare for the winter by losing their leaves and then gradually begin to adjust to the cooler temperatures. This process is referred to as "hardening off", and when trees do not have the opportunity to harden off, they are unable to protect themselves, and become vulnerable to the cold winter months.
The extent of the damages to the trees may or may not be immediately noticeable and hiring a professional arborist to come and make an assessment is strongly recommended in order to protect these valuable assets on your property. Senske Services have ISA Certified Arborists on staff with the experience and training required to diagnose and development treatment plans to care for your trees and shrubs. Contact Senske Services today to have one of their certified arborists come out for a free professional assessment and estimate.
About Senske Services:
Senske Services, Inc. is a leading lawn, tree and pest control service provider that is locally owned and operated, with its corporate office based in Kennewick, Washington. It has been a trusted source of lawn, tree and pest control services since 1947 across Eastern Washington, Idaho, and Utah, as well as pest control in Las Vegas, Nevada. To see what Senske Services can do for you, visit http://www.senske.com.