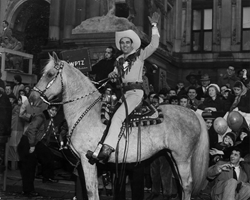 Beverly, Massachusetts (PRWEB) June 12, 2015
Rex Trailer fans turned out in force to honor their beloved Boston cowboy as Kaminski Auctions featured a collection of Rex Trailer and Boomtown memorabilia in the first session of their May 31st auction. A targeted press and social media campaign and a new Rex Trailer Facebook page brought members of his fan club to the auction gallery for preview and to bid in person. They also lit up the Internet with plenty of online bidding. Rex's hand tooled parade saddle worn by his faithful steed Goldrush was the top selling lot, which brought $4,200 and his personal 1997 Gibson acoustic guitar sold to a Boston business personality for $3,240.00. The other assorted lots of the long running shows memorabilia surprised everyone, by selling well above auction estimates. It was a wonderful tribute to a great man and a local Boston legend.
Session two featured a collection of war medals. A Pour le Mérite Blue Max medal sold for a staggering $28,800. The rare medal was awarded for both military and civil service and was an order of merit established by King Frederick II of Prussia in 1740. During the First World War from 1914-1918 it was awarded to commanders on all fronts and in all branches of military service. Max Immelman, a fighter pilot who brought down eight enemy aircraft was the first to receive the award; thus the name for its blue color, and Max, the first recipient. Measuring 2 ½"overall the Pour le Mérite (Blue Max) medal in the Kaminski sale had been awarded to Lt. Hans Klein in WWI by the German Emperor and King of Prussia for bravery and 22 kills during his service in "The Flying Circus." The medal had passed down through his family.
A WWI Luftwaffe Honor goblet from the same collection sold for $18,000. While a portrait of Lt Hans Klein Lanf-Wollin brought $4,500.
A lot of two paintings on copper by Theophile Soyer (French1853-1940) brought 9,900.00 and while a D. Jerome Elwell (American1847-1912) of a Venetian harbor scene was hammered down at $5,100.
Other items of interest in the sale that brought strong prices were a Chinese oxblood porcelain lamp that brought $6,100, an early Colonial powder horn, inscribed "Samuel Mason 1814" and engraved with a tree, mermaid, rooster and other animals, brought $2,5200, while a handwritten a letter of resignation "relinquishing command of the army" by Major General Joseph Hooker brought $3,120.00.
Historical background to this letter of resignation is recorded as General Hooker was ordered by President Lincoln to protect Baltimore and Washington. He came into a dispute over Harpers Ferry with the president and offered his resignation that Lincoln quickly accepted. General George Meade took over as commander of the Army of the Potomac on June 28th, 1863 just three days before the Battle of Gettysburg.
All prices stated include 20 per cent buyer's premium. Kaminski Auctions next Estate Sale is on Saturday, June 20th, 2015 at their auction gallery at 117 Elliott Street, Rt. 62, Beverly,Massachusetts. For more information go to http://www.kaminskiauctions.com and sign up to bid with KaminskiLIVE.